"BEHIND THE STORY" Recap: "The Good Wife"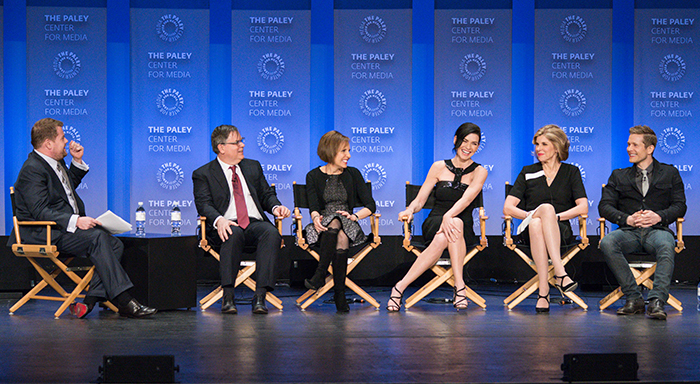 James Corden of The Late Late Show hosts the creators and stars of The Good Wife on the season premiere of BEHIND THE STORY WITH THE PALEY CENTER.
Corden gets started by asking series masterminds Robert and Michelle King what they think it is that gives critical darling The Good Wife the creative edge on its fellow network series. "We're given a lot of freedom by CBS to experiment," the Kings answer. "There was just this feeling the first year of, 'Let's not care about the status quo of the series. If we were to follow one character's emotional arc over a long period of time, where would it take us?'" Adds Robert of the show's grueling, 22-epsiode network schedule, "The only thing that makes us angry is how little time we have off"—two weeks at Christmas and only another three-and-a-half between seasons.
Corden asks star Julianna Margulies if she thinks her character, attorney Alicia Florrick, could ever actually split from her philandering politician husband, a long-running series plot thread. "I would truly love to see her leave Peter," Margulies admits. "We haven't talked about this at all," she adds, with a gesture to the Kings, but the crowd is already cheering. "I think she deserves a chance at real love!" Margulies explains, noting that at present, the fictional power-couple relies on each other's professional support.
The host grills all three cast members in attendance on qualities they share with their characters. "I love beautiful clothes," volunteers Christine Baranski, who plays elegant senior partner Diane Lockhart.
Matt Czuchry, whose ambitious character Cary Agos has served as a rival for Alicia and others, says, "I'm pretty competitive. I've played sports my whole life, so I can identify with Cary in that way, in his competitive nature for sure."
"I'm very neat." Margulies explains, "There are moments on this show where I'll look at [sets for the] kitchen and everything, and I'll hear someone say, 'That looks so TV.' And I'm like, 'That's what my kitchen looks like!'"
An audience member asks the last question of the night, wondering if Margulies can compare her two legendary long-running TV roles. The star considers carefully before deciding ER's Nurse Carol Hathaway and Alicia Florrick are very different people. "I don't think they'd have a conversation," she says. "I mean, unless Alicia ended up in the hospital. Or Carol was suing someone!"
View photos of The Good Wife episode.
Check out these sharable quotes from the cast of The Good Wife on BEHIND THE STORY.
Test your TV fandom with The Good Wife Quiz and The Good Wife Quotes Quiz.