"BEHIND THE STORY" Recap: "Scandal"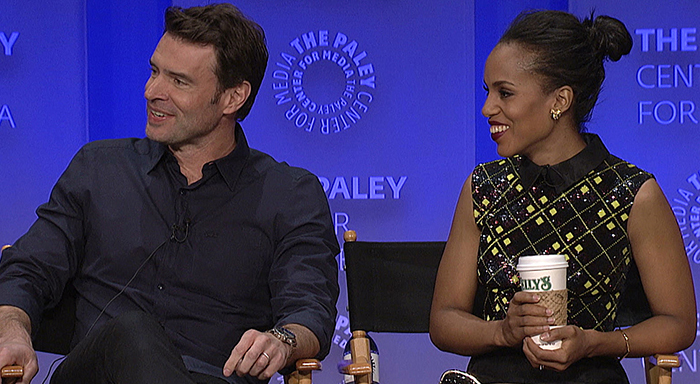 Talk show host Jimmy Kimmel introduces the cast of Scandal on this week's episode of BEHIND THE STORY, and finds out that star Kerry Washington is unfortunately saddled with a bad case of laryngitis. "It's really okay. It doesn't hurt, it just sounds bad," Washington croaks.
Kimmel asks the group if they have any input into new casting choices. "We're not involved in any of the decisions. Shonda makes the decisions," Tony Goldwyn replies, referring to creator Shonda Rhimes, who also produces Grey's Anatomy and How to Get Away with Murder.
The host probes further, asking if any of the actors ever argues with their boss. The answer: a unanimous no. "She once ran over my foot and I was like, 'You're right!'" jokes Joshua Malina.
Kimmel follows up on Malina's sense of humor in reference to some infamous on-set antics, asking if any of Malina's legendary pranks have ever legitimately upset a cast member. Katie Loews says she tried to stop speaking to him after one too many Twitter hacks. "He made me break down into tears," Darby Stanchfield admits, recounting a scene in which Abby (Stanchfield) sits next to David (Malina) in an office chair, which Malina promptly shoved out of position every time cameras started rolling so she had to scramble back into position take after take.
Guillermo Diaz explains the origins of Huck's unique speech patterns: "Yeah, I remember the first scene I shot was the scene in the bathroom with Quinn in the pilot, and I remember I started talking that way, and I remember our director, Paul McGuigan, went back and I think spoke to Shonda and Betsy and said, 'Look, he's doing this thing where he's acting a little bit off, like he's not mentally right. Is that cool with you?'"
After posing for a mid-panel Twitter pic snapped by Katie Lowes, Washington fields a question about the show's cultural relevance, especially a recent arc involving Fitz declaring war on an African country to save Olivia's life. "At a time in this world where we were begging the media to pay attention to hundreds of black girls that were missing overseas, the fact that Shonda wrote the ultimate "bring back our girls," that it became the epitome of "black lives matter," that rather than ignoring the hundreds of black women that were missing, she made a president go to war for this one person. It just seemed like a powerful idea."
Washington follows up with an answer to a fan's question about the events finally foregrounding Olivia Pope's race, saying, "It did feel like we had come to a point where the writers were comfortable now embracing fully this part of Olivia's identity, and I like that it was a journey for Olivia herself. She had to cross the picket line to validate her black card."
View photos of the Scandal episode.
Check out these sharable quotes from the cast of Scandal on BEHIND THE STORY.
Test your TV fandom with the Scandal Quiz and Scandal Quotes Quiz.