"BEHIND THE STORY" Recap: "Agents of S.H.I.E.L.D."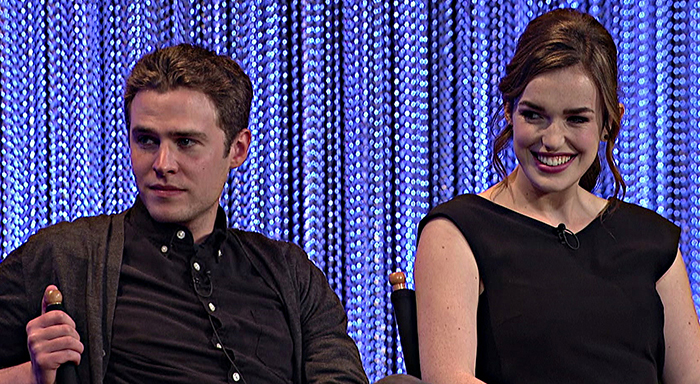 This week on BEHIND THE STORY, actress and writer Felicia Day hosts the creators and stars of Marvel's Agents of S.H.I.E.L.D. Spoilers for both the series and the Avengers movies ahead!

Day hits the ground running with a much-debated question for Clark Gregg, asking if his character, S.H.I.E.L.D. Agent Phil Coulson, is one and the same on the big and small screen (Coulson was famously killed off in the Avengers movie series and resurrected for the show without explanation). "When he was in the movies he was alive. And then he was dead. And then suddenly he was alive again!" Gregg kids, before revealing that he's really in the dark as well. "[Avengers director] Joss [Whedon] and [Agents producer] Jeph [Loeb] called and they said 'Look, you might not be so dead.'"
Ming-Na Wen, who plays black ops pilot Melinda May, is unsurprised by the secrecy. "They don't tell us anything. Marvel is S.H.I.E.L.D."
Day digs into another burning question, grilling Iain De Caestecker and Elizabeth Henstridge on the relationship between their mysterious British duo, agents Leo Fitz and Jemma Simmons. De Caestecker downplays the possibility of romance: "It feels like they're more brother and sister, maybe."
"That's how we're playing it," Henstridge agrees. "Which is gonna be kind of weird if they do end up doing it!"
Writer-producer Maurissa Tancharoen provides insight into the conception of the characters, who were originally both male. "As far as Fitz-Simmons go, they were sort of based on Casey Affleck and Scott Caan in Ocean's Eleven. The pair of friends who've grown up together and bicker all the time, but there's a sort of pure bro love there. And then before we knew it, Ms. Henstridge came in and sort of stole it away."
"They both kind of took the part," adds Tancharoen's husband and fellow producer Jed Whedon. "They both kind of came in and said, 'I'll have this, thank you very much!'"
In between sprints off stage to hug particularly sweet audience members, Clark Gregg gets thoughtful when a fan wonders if there's any possibility of crossover between Agents and Marvel's streaming series, like Daredevil and Jessica Jones. "It's been kind of amazing as someone who grew up reading some of those comics to see the way that Marvel doesn't leave a lot on the table. If there's some way to really make the most out of the things the fans want and respect… You know, people say 'Coulson lives' on Twitter and here's the show. The things that fans say they want… in my experience there's a lot of listening there."
View photos of the Agents of S.H.I.E.L.D. episode.
Check out these sharable quotes from the cast of Agents of S.H.I.E.L.D. on BEHIND THE STORY.
Test your TV fandom with the Agents of S.H.I.E.L.D. Quiz and Agents of S.H.I.E.L.D. Quotes Quiz.