Top 10 All-Star Guest Stars on "The Good Wife"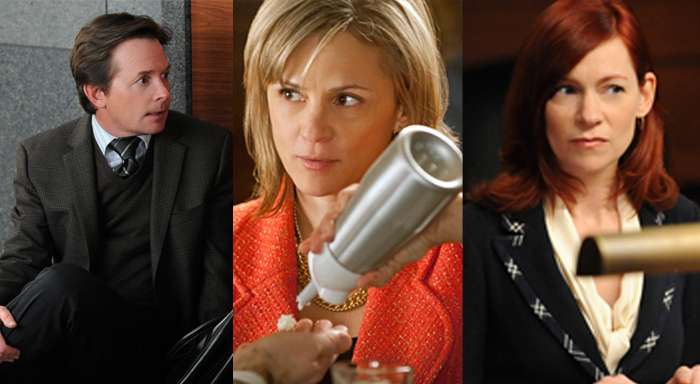 The Good Wife stands out from the crowd thanks to whip-smart writing and its leading lady Julianna Margulies. The show's secret weapon, however, is its rotating roster of amazing guest stars. Here are some of our favorite appearances…
1. Amy Sedaris
Comedian Sedaris embodied the hilarious high-octane lunatics such as 46-year-old high schooler Jerri Blank in Strangers With Candy, the cult after-school special parody she created. In her role here as Eli Gold's most worthy opponent—peppy Southern lobbyist Stacie Hall—she poaches clients with a smile.
2. Anika Noni Rose
The Tony award-winning actress (Caroline, or Change) and Disney princess (Tatina in The Princess and the Frog) appeared on The Good Wife as Wendy Scott-Carr, a lawyer who runs agianst Peter Florrick for Cook County State Attorney. She's also one of the best villains on the show.
3. Carrie Preston
This hardworking actress shined on everything from Sex and the City to Lost and Desperate Housewives before landing a lead on True Blood. She's also impressive in The Good Wife, where her brilliant, ADHD-addled attorney Elizabeth Tascioni uses a scatterbrained demeanor to camouflage her ferocity.
4. Marc Warren
He made his name playing shady characters in Hustle, The Vice and Mad Dogs so Warren is the perfect fit as Kalinda Sharma's estranged ex-husband Nick, who shows up and disturbs just about everyone within his range with stalker-like behavior and strange criminal connections.
5. Martha Plimpton
The one-time child star of The Mosquito Coast went on to become a notable stage actress with an edge. As the Lockhart-Gardner rival Patti Nyholm, she'll do whatever it takes to win, even use her newborn at an important trial.
6. Matthew Perry
The affable Friends star plays startlingly against type as Peter's political rival, Mike Kresteva, who makes no bones about crushing and ridiculing all those who stand in his way. Even when he's turning on charm, this guy's just a smirk away from a vicious sneer.
7. Michael Ealy
Ealy hit the big screen with movies like Barbershop and Kissing Jessica Stein and has appeared on the small screen on shows like Californication and The Following. On The Good Wife, he learned a hard lesson as Derrick Bond. After becoming a partner and trying to get rid of Diane, he gets ousted himself.
8. Michael J. Fox
Fox turns in a fearless performance, playing his real-life affliction with Parkinson's disease for laughs as the Machiavellian Louis Canning. A slimy opponent, Canning remains impossibly likable thanks to a twinkle in eye that makes it clear just how much Fox is enjoying himself.
9. Nathan Lane
The two-time Tony Award winner tones it down as staid Clarke Hayden, a trustee assigned to watch over Lockhart-Gardner as they struggle to pay off crushing debt. Lane invests the role with perfect understated aloofness and then surprising warmth. He may have a no-nonsense approach to business but he's also got a heart of gold.
10. Stokard Channing
Over 20 years after her breakout performance as tough-talking delinquent Rizzo in Grease, Channing won an Emmy as an equally outspoken First Lady of the United States in The West Wing. Channing brings her combative nature to the fore again as Alicia's mother, Veronica Loy, the free-spirited, hard-drinking narcissist.
How well do you know The Good Wife? Find out by taking The Good Wife Quotes Quiz.