6 Questions with "Orange is the New Black" Star Michelle Hurst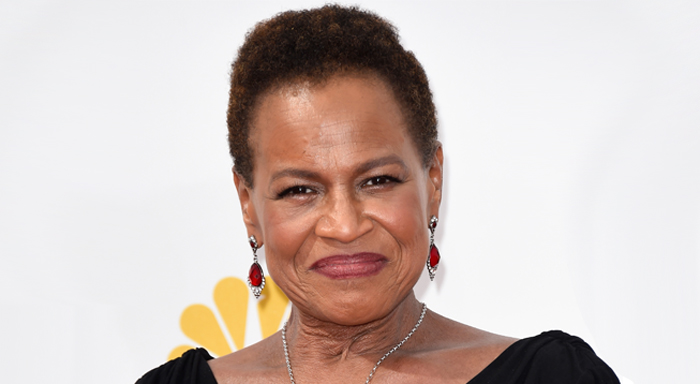 With an impressive career in TV, film and theater, Michelle Hurst has played everything from lawyers and judges to an incensed mom. But it's her role as Miss Claudette Pelage on Orange is the New Black that we wanted to learn more about. Here's what Michelle had to say about her fear of being thrown in jail and whether her friends get nervous when she's holding a knife.
Q: Can you tell us about your experience working on Orange is the New Black?
A: It was my first time being a series regular. Even with all the work I've done, I'd never been a regular on any television show.
One of my little phobias is being locked up, and I thought, "Do I want to do this show?" People always say, "Go toward what you fear," so I said, "Ok." There was no time to be nervous. A week after I auditioned, I started working.
The biggest thing for me was getting to know all these incredible women, and the crew you're working with. I thought, "Oh, that's someone I've admired, but now I get to talk to them as equals."
Q: Who was the inspiration for your Miss Claudette character and are you channeling someone you know from your life?
A: I know my character is kind of based on someone in the book. I understand more about Miss Claudette because of this character, but there are two women I've encountered in my life who have helped me create her. The way they handled their lives are the way Miss Claudette handles her life.
You have to be strong all the time. That's a biggie in our society for women of color. Miss Claudette's vulnerability doesn't come out easily, and that's something I've seen in a lot of women. They'd rather attack first than show vulnerability. They want you to see this hard edge of them because that's the way we survive.
Q: After working on Orange Is the New Black, has your view on the women's prison system changed in any way?
A: It has because I've encountered and heard more stories. One of the things Piper Kerman has said in the book is that the majority of women in prison have all done minor crimes. There's always been an understandable reason to do what they did—they want to make sure their kids get fed, etc. Now, I won't defend killing someone. I don't condone it, but I get it if someone is being abused.
Q: Are your friends afraid to be around you in the kitchen when you're holding a knife?
A: [Laughs.] I think when they first started watching the show, a lot of them weren't afraid. A lot of them said, "You're so mean," and I said, "Wait 'til you get to the end of the first season and see if I'm mean."
By the end of the first season strangers would say, "What she did was kind of cold-blooded, but I understand it." Not that they'd kill someone, but they understood in their bones why she did it.
Q: You were in a very serious car accident over a year ago, and you have made and continue to make an impressive recovery. How are you doing now and after that experience, what are you most grateful for?
A: I'm doing much better…. I'm moving forward. I'm so grateful to my fellow actors on Orange. After they heard about the accident, they all stepped up to find out what I needed and what my family needed. The magnitude of them stepping up to the plate was overwhelming. I'm grateful to every person who I've ever known who all stepped up to the plate and sent love in every form.
Even when I get frustrated and things are painful when I'm seeing my doctors, I grunt, but I think, "You're here, kid." That's the biggest. I'm grateful to be here.
Q: You're also known for your stage work and writing your own pieces. Are you working on any writing projects now and what else is coming up next for you?
A: I'm trying to configure this whole journey with the accident probably into a one woman show. I'm also working on a piece about Marilyn Monroe. I've always been intrigued by her, and we have the same birthday. There's gotta be some sort of commiseration that I feel what she has felt.
I'm also appearing in Episode 4 of Last Tango in Halifax starring Derek Jacobi and Sara Lancashire, which will begin airing in the U.S. June 28th.
Don't miss an all new episode of BEHIND THE STORY Orange is the New Black Mon., Jun. 8 11/10c on SundanceTV.
Test your TV fandom with the Orange is the New Black Quiz and the Orange is the New Black Quotes Quiz.