6 Questions with "Orange is the New Black" Star Lin Tucci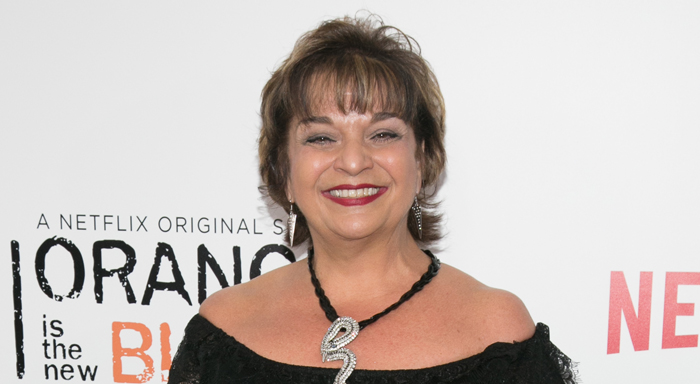 From Henrietta "Mama" Bazoom in Showgirls to Anita DeMarco on Orange is the New Black, Lin Tucci is no stranger to playing Italian-American women. Find out what her prison nickname would be, what she likes most (and least) about her character and why she loves working with Jenji Kohan.
Q: Can you tell us about your experience working on Orange is the New Black? What have been the highlights for you and the most memorable experiences?
A: The biggest highlight was getting the call that I got the job.
I didn't have the experience of being in an episodic TV series, and when my character had an oxygen tank on my mouth the first season, I thought, "She's gonna die any minute. Who's gonna kill her?" As things proceeded, I realized this is not necessarily the way it's going to roll.
Working with Jenji Kohan has been unbelievable. She comes to the set with a backpack on and a big, beautiful smile. Her creativity is so unassuming. The whole tone that she sets from the second you walk through that door at Kaufman Studios, from the cast to the crew to craft services, is just unbelievable.
Everyone is so grateful. I just got the call for Season 4, and I thought, "Thank you, Lord!" I feel like I'm riding a rainbow.
Q: Why do you think the show has enjoyed so much success and what is it about "Orange" that audiences love so much?
A: I do think that a great deal of the viewers identify with some character in some way. It's such a variety of characters from the racial aspect, the age aspect, nationality. Anyone who watches it can relate to a character.
I'm equally as fascinated that the demo is so varied, but that's the reason people like it. There's a little melodrama that people like. The drama. The comedy. It's so well written. The writers are spectacular. The directors are equally spectacular.
Q: Which are your favorite and least favorite traits about Anita DeMarco?
A: I like that she has learned how to live in prison. One of her best attributes is that she's a wise old sage. She's been there, done that. She's like Dante leading the prison posse through the inferno. She has that kind of mentor quality.
My least favorite trait is that she seems to have some prejudices. She refers to Laverne as a he/she. I would want to slap her face with that. It seems that there's an ignorant side of her that pisses me off.
Q: Which character on the show are you most like and which is your complete opposite?
A: I'm probably most like the nun. I love Beth. I'm a very spiritual person and I can be an activist. I've played Nunsense for 8 million years. I have the habit in my closet. I like the way she has mentored Sophia.
The character I'm least like is V. She's a stone-cold bitch who I'd wanna slap. Who doesn't want to knock her out?
Q: What's it like acting with a huge ensemble of women?
A: Spectacular. Even some of the education I've gotten on set about Michelle Hurst's character and how she conducted herself in prison. It's wonderful to be around the variety of cultures. That's the most enlightening. I learn a lot about how people live in different cultures. There's a variety of ages. You just sit there and listen to their personal backstories—how they got into acting, what their family is like when they leave the set, etc.
I love working with Kate Mulgrew, she sets the bar high. Jenji blows my mind each and every time. It is a talent beyond belief. It starts at the helm.
Lisa Vinnecour, the Executive Producer, is her right-hand gal. She's unbelievable. There's not a question or a moment when you can't ask her something. She's there for you listening with an open heart and an open ear. When I walk onto that set, I think, "what a lucky girl I am."
Q: If you were in prison with some of these characters, who would you be friends with and who would scare you the most? What would your nickname be?
I'd be friends with Yoga Jones. I just love her. V scares the bejesus out of everyone. She's someone I wouldn't want to share my prison cell with. I'd definitely go to bed with one eye open. As Anita, I'd want my prison nickname to be "The Duchess DeMarco." As myself, I'd be "Don't Touch the Tucc."
Watch BEHIND THE STORY Orange is the New Black online now.
Test your TV fandom with the Orange is the New Black Quiz and the Orange is the New Black Quotes Quiz.