"BEHIND THE STORY" Recap: "Mad Men"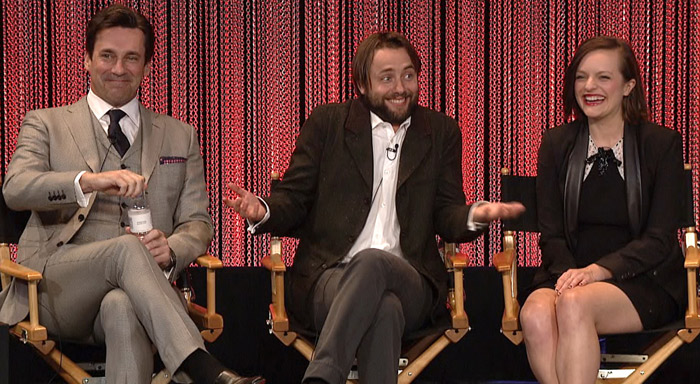 TV Guide's Mike Schneider introduces the outstanding cast of Mad Men on this week's BEHIND THE STORY. Jon Hamm begins by thanking the fans for being there for the show "this far in."
Schneider's opening question about the group's emotional state hits home with the eight year series coming to an end. "We're in some phase of grief… probably denial," Hamm speculates. Elisabeth Moss shares a recent conversation with series creator Matthew Weiner about the reality sinking in that the Mad Men family will soon split up. "…I don't plan on seeing any of these people ever again," Moss quips, lightening the somber mood.
Schneider digs into some character psychology, including questions to Hamm and Kiernan Shipka about the pivotal moment last season in which Shipka's character, Sally, caught Don Draper in bed with a married neighbor.
"Sorry about that," jokes Hamm, but Shipka gets serious: "…It was really the first moment where I think Don and Sally had a real understanding."
Jessica Paré comments on feminism's role in the series and her character Megan's life, explaining that "she thinks she can have it all" and that she sees warmth and good nature in Don where the rest of the office doesn't. "Maybe it's naive, but I prefer to think of it as optimistic."
Moss shares her own views on Peggy's journey, explaining how the one-time secretary's search for identity "sums up the story of women at that time."
Vincent Kartheiser opens up on Pete Campbell, for whom he says losing his wife, Trudy (Alison Brie) is the defining event of the series.
Elisabeth Moss and Christina Hendricks talk Peggy and Joan's unique relationship and their occasional, fan-favorite scenes together. Hendricks describes the way the two women have taught each other how to function in the male-dominated workplace at different times.
Jon Hamm sounds off on last season's wild speculation: "What it really means is people are engaged in what we're doing."
Moss responds to questioning about the on-set "basecamp" where the cast spends time together between shooting, coming up with goofy games and inside jokes. "We like to hang out together and we like to be at work. It's crazy, but we love it there."
Moderator Schneider accidentally challenges Hamm to a staring contest from an audience-submitted question. The two lock eyes for an endless minute but Schneider is ultimately no match for the Draper stare.
Schneider shifts the topic to costuming, pointing out recent changes in Peggy Olson's style. "I think it's her just kinda growing up in a way and learning where her place is in the office," Moss explains.
Kartheiser gives the inside scoop on shaving his hairline back as Pete Campbell balds: "My make-up and hair regimen has gone from being, eh, 15 minutes to an hour forty-five."
The final question asks if the cast-members ever dream about characters from the show. Kartheiser speaks up once more, sharing a memory of dreaming Pete Campbell was staring at him through the window, adding, "Pete Campbell looks really creepy." Robert Morse confesses, "I dream of Jon." Don't we all?
View photos of the Mad Men episode.
Check out these sharable quotes from the cast of Mad Men on BEHIND THE STORY.
Test your TV fandom with the Mad Men Quiz and Mad Men Quotes Quiz.