"BEHIND THE STORY" Recap: "Parks and Recreation"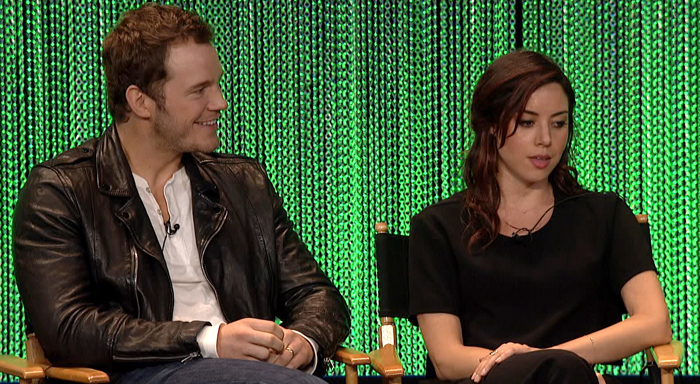 Comedian Patton Oswalt hosted the outrageously funny cast of Parks and Recreation on BEHIND THE STORY. It's been a long, successful road for this creative team. Joined by creator Michael Schur, who reflects on the miracle of the show coming together back in 2009, the panel greets the multiple balconies of audience members with awe and gratitude.
"Retta and I are drinking wine!" Amy Poehler, the series lead, exclaims after professing her admiration (and getting a little choked up) for the inspiring and collaborative cast of the show.
Poehler discusses how she and her character Leslie Knope have grown together and how much genuine love she has for her Leslie's exuberance. In Poehler's words, "What's cool about her is that there's nothing cool about her." Oswalt agrees, "Well said." There's a reason for that. The Emmy-award winning actress is a writer on the show as well.
When Aubrey Plaza and Chris Pratt reveal the truth about their on-screen romance, they give the writers all the credit. Pratt weighs in on the palpable chemistry between the two characters in the Season 2 episode "Hunting Trip", when April and Andy are left back at the office and bond over their efforts to kill time. Plaza loves April's attachment to Andy, saying, "She has the ability to love the dumbest man in the world." Pratt nods in agreement.
But Pratt is no simple-minded man in real life. Retta expresses her love for Pratt's ability to improvise profoundly when the cast is able to veer away from the script.
One of the most fascinating character attributes to be worked into the show is Nick Offerman's wood shop, which is used as the actual set for Ron Swanson's parallel hobby. "I build furniture and canoes and whatnot," Offerman says casually. And then quips, "They said they could maybe milk some comedy out of my nerd hobby."
On the other hand, Billy Eichner — who came on as a guest star in Season 6 — feels appropriately alienated by his character, Crazy Craig. When asked his favorite thing about his character, he answers wryly, "He's not repressed. You won't find him on Downton Abbey." Similarly, Ben Schwartz shakes his head when asked about his favorite character quality of Jean-Ralphio. "Gonna have to dig deep with this one," he says sarcastically.
Speaking of depth, creator Michael Schur talks about how office putz Jerry Gergitch, played by Jim O'Heir, secretly has the best life. In finding out that the writers would pitch the idea that supermodel Christie Brinkley leave Jerry, O'Heir feigns shocks and says, "No!"
At the end, when the questions are turned over to the audience, Poehler is idolized by one of her fans who gushes over her opportunity to speak with Poehler. "I really picked well with you!" Poehler says with a twinkle in her eye.
View photos the Parks and Recreation episode.
Check out quotes from the Parks and Rec cast in these episodic photos.
Test your TV fandom with the Parks and Recreation Quiz and Parks and Recreation Quotes Quiz.