6 Questions with "Mad Men" Producer Marcy Patterson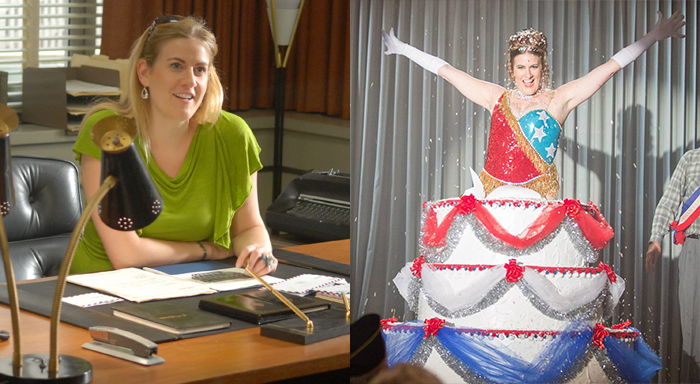 Mad Men producer Marcy Patterson, featured on SundanceTV's BEHIND THE STORY, talks about the behind-the-scenes family, Playboy's contribution to the show and her Mad Men-influenced wedding plans. And lest you think all of Patterson's work is behind the scenes, pictured above is a scene from Season 7′s Episode 13 that featured none other than the producer herself popping out of the cake in the VA Hall Don visits.
Q: You came on board with Season 1, which was your first job as a producer after working as a production assistant on The Sopranos. How did you end up involved with this series?
A: I was a [Director's Guild of America] trainee on The Sopranos, actually. I had sent a holiday card to [Mad Men executive producer] Scott Hornbacher, and asked him if he knew of anyone looking for a producer's assistant. He said, "Hey, I'm actually moving to L.A. to do a new show called Mad Men. Why don't you come and be my assistant?" I didn't know anything about the show, but I remembered Scott from Sopranos and really loved working him. I asked him if he would let me sit in on every meeting he sat in on, and he said yes. So Season 1, I started sitting in on meetings and then slowly, as time went by, I'd have a reason to be in the meetings. I got promoted to associate producer and kind of just kept on my trajectory from there!
Q: Do you have a favorite episode? And what makes that one so special to you?
A: I would say my favorite would be the Season 6 premiere, "The Doorway," directed by Scott Hornbacher… because it presented a lot of challenges from pulling that episode together. In that episode Don and Megan go to Hawaii and we actually shot those scenes in Hawaii. Trying to figure out how to work in Hawaii on a period show is not easy, because it's not like Hawaii has rental houses where you can rent 1960s props and stuff like that. I just love a good challenge and I think the episode turned out great.
Q: Mad Men occasionally has recreated whole new worlds within its world—the Playboy Club immediately comes to mind. What does it entail to make something like that a reality?
A: The Playboy Club was definitely something we wouldn't have been able to do in the same way without Playboy's help. We ended up going on location to shoot it in downtown L.A., but thankfully we were able to reach out to Playboy for help. We were able to make large posters of the period-appropriate bunnies and Playboy covers from the day… which is the only way you could have made that set look authentic…. [Playboy] worked with [costume designer] Janie Bryant directly, overseeing the costumes to make sure the bunnies were wearing exactly what they would have been.
Q: Have the fashions of the series influenced your own personal style?
A: I would definitely say that they have. Not maybe my everyday style, because I'm not one that pays too much attention to fashion in my everyday life, but you know, I've learned so much from Janie Bryant that whenever there's a time in my life that fashion does matter, I either call Janie for advice or just hear her voice in my head saying, "It's all about the foundation!" in her cute, little Southern accent. You know, women during the Mad Men era wore "foundation garments" daily, which is basically the equivalent of Spanx! Whenever it's time for the Emmys or something like that I always think about Janie. I recently bought my wedding dress, and of course I couldn't do it without talking to Janie first. I told her I wanted to look like Joan on my wedding day.
Q: As Mad Men comes to an end, what will you miss most about working on it?
A: I will definitely miss the people the most, for sure. You spend seven and a half years working together and the people kind of become like family. I see them way more than I see my parents, who live on the East Coast, and my siblings and things like that, you know? There was a great camaraderie and just mutual respect that everyone had.
Q: What's next for you?
A: I'm currently working on a feature film called Sophie and the Rising Sun, which is shooting in South Carolina. It's a low-budget, independent drama. And what's next for me is, I'm looking to keep producing great projects. Doesn't really matter if it's in TV or film. I just want to keep working on material I'm passionate about with people I enjoy working with!
If you liked Mad Men, you just might like RECTIFY on AMC's sister network SundanceTV. Check out the trailer below.
RECTIFY's all-new season airs Thursdays at 10/9c on SundanceTV.
Watch full episodes of RECTIFY online now.