10 Must-See Movies Starring the "Parks and Rec" Cast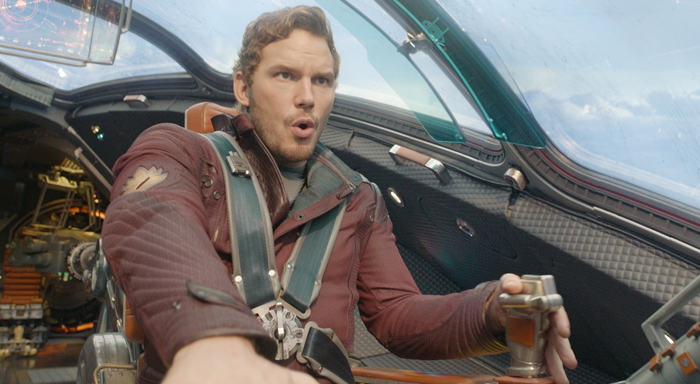 While Parks and Recreation has been a cult favorite among TV fans throughout its seven-season run, the cast has been busy making quite the impact on the big screen in recent years as well. Running the the gamut from small indie films to mega blockbusters, here are 10 movies featuring Parks players you shouldn't miss.
1. A.C.O.D.
Amy Poehler and Adam Scott played husband and wife on Parks, but in this offbeat comedy (which premiered at the 2013 Sundance Film Festival), Poehler plays Scott's age-inappropriate stepmom. Scott stars as an adult child of divorce (hence the titular acronym) who confronts his dysfunctional family after his brother announces his engagement. A slew of other TV stars, including Glee's Jane Lynch and The Mindy Project's Adam Pally, are among the cast.
2. Guardians of the Galaxy
Chris Pratt's unlikely ascent from Parks and Rec goofball to Hollywood hunk was solidified with this surprise blockbuster, based on a little-known Marvel comic franchise. Among such seasoned film stars as Bradley Cooper, Vin Diesel, Glenn Close and Zoe Saldana, Pratt commands the screen as rogue human-alien hybrid Star-Lord.
3. I Love You, Man
Rashida Jones, who played Leslie's best friend Ann on Parks for years, takes on the role of Paul Rudd's fiancee in this funny exploration of male friendship. Rudd occasionally guest-starred on Parks as spoiled-brat political candidate Bobby Newport. This hit comedy is another one that came packed with sitcom stars, including How I Met Your Mother's Jason Segel, former SNL players Jane Curtin and Andy Samberg, and My Name Is Earl's Jaime Pressly.
4. Life After Beth
Aubrey Plaza (who played the droll April Ludgate on Parks) takes one of her leading-lady roles in this indie zombie-comedy that premiered at the 2014 Sundance Film Festival and sees her portraying the titular Beth, who's mysteriously resurrected after dying from a snake bite—except neither her parents nor her boyfriend inform her that she's living in the afterlife.
5. Our Idiot Brother
It's Rashida Jones and Paul Rudd once again! This time he's a pot-friendly dunderhead named Ned and she's lesbian lawyer Cindy, who's dating Ned's sister Natalie. In one hilarious sequence, Ned and Cindy plot to kidnap Ned's old dog from his ex-girlfriend's farm just as Cindy discovers that Natalie hasn't been faithful.
6. Safety Not Guaranteed
In her first starring film role, Aubrey Plaza portrays a disaffected college student named Darius who interns at a magazine and gets a chance to investigate alleged time-traveler Kenneth (Mark Duplass). This kooky, scifi-infused comedy, which debuted at the 2012 Sundance Film Festival, was based on a real-life classified ad that was placed in Backwoods Home Magazine in 1997, although it was later discovered that an editor there wrote the ad as a joke.
7. Smashed
This quiet drama tells the story of a young schoolteacher named Kate (Mary Elizabeth Winstead) whose life outside of work is dedicated to drinking heavily with her fun-loving, loyal husband Charlie (Breaking Bad's Aaron Paul). When both her career and her marriage are ultimately jeopardized by her alcoholism, she turns to colleague Dave (Parks' Nick Offerman), himself a recovering alcoholic, for support. Offerman's real-life wife Megan Mullally, who played one of his ex-wives on Parks, has a small role as the school principal. Smashed made its debut at the 2012 Sundance Film Festival.
8. The Invention of Lying
Rob Lowe, who portrayed Parks' relentlessly upbeat Chris Traeger for several seasons, gave a memorable performance in this fantasy-fueled rom-com as Brad Kessler, who competes with the shlumpy Mark (Ricky Gervais) for the affections of the rich and beautiful Anna McDoogles (Jennifer Garner). The film also features a supporting role for Louis C.K., who occasionally guest-starred on Parks as Poehler's also-shlumpy love interest.
9. They Came Together
This rom-com parody debuted at Sundance Film Festival in 2014, starring Amy Poehler opposite Paul Rudd. For this flick, which lampoons pretty much every rom-com trope you've ever seen, Poehler and Rudd also re-teamed with David Wain and Michael Showalter, the writing-directing team behind the 2001 camp comedy Wet Hot American Summer.
10. What's Your Number?
This offbeat romantic comedy stars Anna Faris—real-life wife of Parks star Chris Pratt — as Ally Darling, a thirtysomething woman trying to right the wrong relationship decisions she's made over the years. Pratt has a hilarious supporting role as "Disgusting Donald," Ally's once-pudgy ex-boyfriend, while Parks star Aziz Ansari portrays another of Ally's many former lovers.
COMING SOON: Me and Earl and the Dying Girl
If you liked The Fault in Our Stars, you're bound to love this indie drama about a Pittsburgh teenager battling leukemia, likewise based on a young adult novel. Nick Offerman plays a supporting role among up-and-coming stars Thomas Mann, Olivia Cooke and The Walking Dead's Jon Bernthal. After winning the Audience Award and the Grand Jury Prize at the 2015 Sundance Film Festival, the movie is slated for a June 2015 release.
Don't miss BEHIND THE STORY WITH THE PALEY CENTER, Tue., premiering Apr. 7 at 8/7c with "Park and Recreation".
Test your TV fandom with the Parks and Recreation Quiz and Parks and Recreation Quotes Quiz.