"BABYLON" Recap: Episode 6 (London)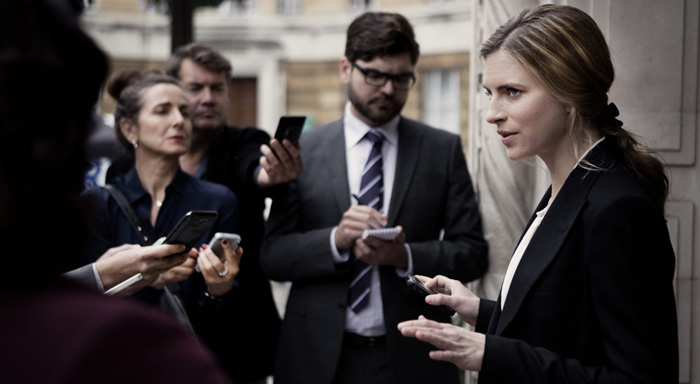 The armed police celebrate the return of Banjo, Tony and Robbie back from suspension.
Inglis and Finn watch Sharon announce the end of the shooting investigation and roll out her new initiative to make all civilian Police Community Support Officers into full members of the force.
After Liz talks Sharon's campaign with a receptive press, a reporter shows her just-leaked security footage of Banjo destroying the trashcan before the shooting and she hurries to get Sharon off stage. Sharon says the investigation could be reopened.
The armed police are furious to hear the impromptu "announcement." Banjo exercises his contractual right not to bring his weapons on duty and the rest of the officers follow suit, effectively going on strike.
Clarkey and Davina bicker before Nobbo shares the news of Banjo's video. The Territorial Support Group hears of the armed guards' strike and Clarkey stirs up anti-management sentiment among the TSG officers, who stage an unofficial strike of their own.
Inglis tells Sharon he will stand by her statement about the investigation being reopened for the good of the force as a whole. Sharon proposes calling in the army, given the force's current lack of armed police, which Inglis vetoes. Sharon tells Liz to find dirt on Inglis despite Liz's objection to mudslinging, also insisting on rolling back her plan for the PCSOs.
Matt Coward shops his footage of Robbie's confession to news outlets.
Tom Oliver requests to be transferred to Sharon's staff, fed up with Finn's rudeness.
Liz and Finn square off once again, Finn blaming Liz's unorthodox strategies for the force's current embattled state and Liz calling Finn an obsolete "dinosaur."
Liz is reenergized for her cause, but troubled when Sharon admits she believes all reform must be gradual.
Liz watches Inglis address the armed police with an inspiring speech.
The deputy mayor tells Liz his people are happy with either Inglis or Sharon, mentioning that Sharon offered to use PCSOs to arrest striking officers.
Liz approaches Inglis, explaining that she wants to back him for commissioner. Inglis is reluctant to accept the offer, but Liz wins him over.
Matt Coward's former bosses in the communications department inform Robbie of rumors circulating about Coward's incriminating footage.
Won over by Inglis's speech, Banjo ends the strike so that police can contain the riots escalating throughout London.
As soon as they're deployed, Robbie leads Banjo and Tony to Coward's apartment, planting drugs, arresting Coward, and explaining the truth about the shooting to a horrified Banjo and Tony. Banjo helps Robbie steal Coward's electronics. Tony plays along but pockets a thumb drive while Banjo receives a message from Davina.
Davina tells Nobbo she and Clarkey have been having an affair to prove she's serious about starting a new life together. Clarkey quells the TSG riot after word gets back that the armed police have deployed.
After Liz leads her into an important meeting unprepared, Sharon realizes she's jumped ship.
Clarkey and Davina sneak off to a bathroom for an on-duty tryst while the riot starts to break out outside.
Inglis receives word he's to be appointed as Commissioner. On the way to see the Prime Minister, Liz, Finn and Inglis are trapped in the street by the riot.
Davina and Clarkey join the fray and TSG officers hold the line against violent rioters destroying local storefronts.
Tony delivers the thumb drive with Robbie's video confession to Liz.
Banjo shows up in plainclothes as the riot dissipates, insisting on fighting Clarkey, who doesn't back down. Davina and Nobbo pull the two apart after Banjo starts coming out on top.
Tony tells Warwick the truth about the shooting, but Warwick tells his former coworker he has no interest in getting reinstated.
Liz and Finn debate revealing Robbie's confession to the public in front of Inglis, Liz pitching the radical idea as a bold declaration of a new era of openness that could actually win public support, while Finn fears it could exacerbate the riots. Liz finally breaks through Finn's conservative philosophy, convincing him that transparency could be the best solution to the difficult situation.
Robbie and Banjo are arrested as Inglis presents Robbie's confession to the press.
Need to catch up? Read recaps from previous episodes.