Critics Call "BABYLON" Premiere "Riveting", "Eerily Timely"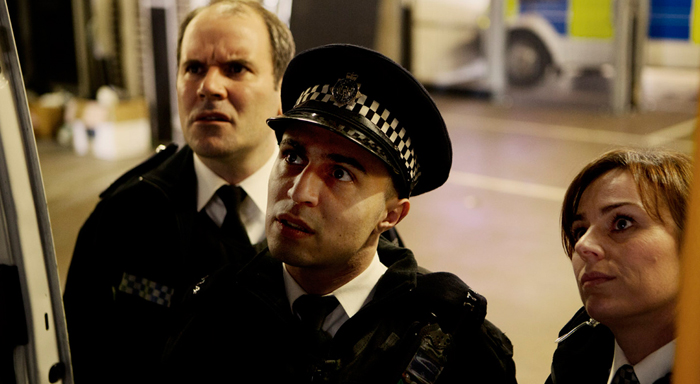 The votes are in on SundanceTV's new comedic drama BABYLON after yesterday's premiere, and top critics everywhere from the L.A. Times to IndieWire are raving about the "ambitious" new series which "proves to be one of the most timely satires in recent memory."
Read on for more:
• Vulture's Matt Zoller Seitz calls BABYLON "as purely pleasurable as a show can be while still being serious," applauding the series' "singular vision" and "corrosively funny" characters.
• Indiewire's Ben Travers gives BABYLON an A grade, calling the "startlingly relevant" drama "far more pertinent to the discussion" sparked by 2014′s many controversial law enforcement-related headlines than any Oscar contender.
• The Los Angeles Times raves about BABYLON's "range and sudden brilliant commentary," highlighting creators Sam Bain and Jesse Armstrong for "wielding both rapier wit and sheer goofiness."
•The A.V. Club celebrates the "brittle, sometimes absurd humor [BABYLON] manages to draw alongside its clear-eyed look at the sheer callousness of red tape" and the way the series "cuts to the chase when it matters."
•Deadline Hollywood calls BABYLON "eminently watchable TV, sharp and poignant with poised performances."
• The New York Times highlights the "complicated" series' "erudite insult humor" and "eerily timely" relevance for American audiences.
• TV.com calls BABYLON "a refreshing smack in the face, a cop show unlike other cop shows" whose "refusal to slow down is what makes it so compelling."
• The Times Herald-Record praises the "smart and funny" drama, writing, "The series offers a dizzying and disturbing glance at police politics and the absurdity of image management in an era of an aggressive tabloid press and voracious social media."
•The Hollywood Reporter raves about BABYLON's "fresh and rigorously untraditional" plotting while disputing its categorization, calling the laugh-out-loud series a "dark drama" at its core.
•Collider calls the series "engrossing and wonderfully funny."
• The Houston Chronicle raves about the series it calls "stunning television," writing, "The brilliance of the show is in how Boyle and his writers teeter gracefully between comedy and tragedy."
• The Atlantic praises BABYLON's gritty, realistic portrait of modern London and unexpected characterizations and calls the series "very, very funny."
•The San Francisco Chronicle makes BABYLON its top pick of the night, praising both plotting and performances and writing, "Think you've seen all the cop shows you need to see for one lifetime? Think again."
•The Charlotte Observer highlights BABYLON's "superb performances" and "hilariously baroque" writing.