"BABYLON" Recap: Episode 102 (Maze Hill)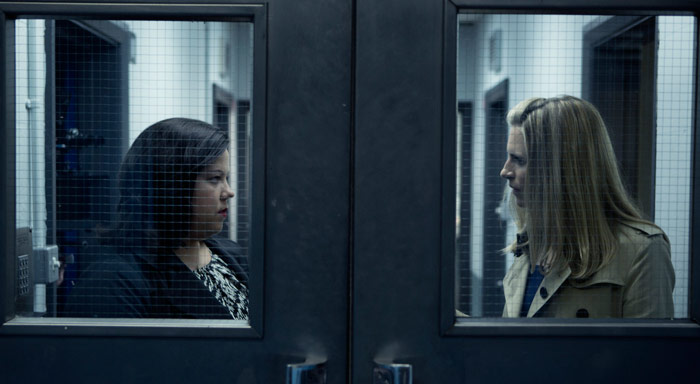 During a training exercise, Robbie is reprimanded for failing to "shoot" an armed and dangerous female.
Liz meets ex-boyfriend Granger at a bar and ends up taking him to her flat and getting high on cocaine.
Commissioner Miller asks Liz to obtain a retraction from a his favorite newspaper after spotting an article which calls one of his prior acts of heroism into question. Liz agrees without getting details and proposes her new idea: the Metwork, a Metropolitan Police Service news division, which would air both positive and negative police-related stories instead of feeding the information to unpredictable press.
Davina, Clarkey and Nobbo arrest a pair of teenagers smoking marijuana in public.
Liz and Finn debate corporate sponsorship of police vans in a policy meeting. Mia explains the details of Miller's newspaper request and Liz decides to forget about it since asking for a retraction would look petty.
Matt Coward catches up with Robbie after firearms training but Robbie continues to brush him off. Robbie asks a female officer to help him get over his hang-up over female combatants, and she agrees to surprise attack him so that he'll have a chance to practice.
Liz asks Inglis to make a show of going after the perpetrators of a string of high-profile bank robberies for PR purposes. Inglis consents and Banjo, Warwick and Tony are dispatched to go after them with the rest of the Armed Response Unit.
One of the teenagers, now discovered in possession of more marijuana, turns out to be the son of Deputy Mayor Grant Delgado.
Liz asks Sharon to volunteer to be tased in a demonstration for an upcoming broadcast to increase her visibility.
Inglis and Tom Oliver bring news of Delgado's son's arrest to Miller, asking him what they should do. Miller professes moral outrage and tells them to leave him to more important business. Clarkey and Davina throw the marijuana away to avoid a potential headache, then have a change of heart and fish the evidence back out of the trash.
Warwick confronts Tony over his suspicion that Tony informed their superior officer of Warwick's post-shooting signs of PTSD.
Miller meets with Inglis, Oliver, and the communications department. Finn and the rest propose leaking news of Delgado's son's arrest to smear the deputy mayor and Miller agrees over Liz's objections.
Matt Coward follows Robbie to the shooting range, hiding his whereabouts from Jerry and Miles, who tell him he's been assigned to document an agricultural unit next.
Miller calls Delgado to tell him about his son's arrest "as a courtesy," while Finn leaks the story to the press.
Nobbo makes crude jokes about Davina having sex with Banjo, making Clarkey uncomfortable.
Coward again finds Robbie, just as the trainee's female coworker surprise attacks and Robbie reflexively elbows her in the face. Coward captures out-of-context footage of Robbie bragging about hitting the woman.
After more marijuana is found on Delgado's son, Miller orders a raid on the deputy mayor's house since the arrest has already been leaked, thus involuntarily escalating the enmity between himself and Delgado. At the station, the press pounce on Delgado.
Banjo, Tony and Warwick spot the bank robbers and end up in an armed standoff. Warwick non-lethally incapacitates one of the violent criminals, but vomits afterward and admits that he's not mentally fit to Banjo and Tony.
Inglis speaks with Sharon regarding the taser demonstration, planting concerns of losing control of bodily functions on-camera. Sharon backs out and forces Tom Oliver to endure the actual demo while she talks the press through it.
Clarkey asks Davina if she is indeed still sexually active with Banjo, explaining that he and his wife are not. Davina admits she and her husband do still have occasional sex, to Clarkey's chagrin.
Delgado confronts Liz upon learning of the raid on his house. Liz apologizes, telling him she doesn't approve. Delgado asks Liz how she would handle his situation, and she advises him to confront the press head-on and take responsibility for his son, salvaging the goodwill of the people. Delgado tells Liz, "You're wasted over there [at the Met]" and warns her that Miller is concealing a dark side.
Matt Coward cuts together footage making Robbie look like an out-of-control incompetent.
Liz tells Miller she was unable to obtain a retraction from the newspaper as the source can't verify the true story for confidentiality reasons. Liz presents Miller with an outline of the Metwork, and the commissioner tells her he can't afford the controversy right now. Liz delivers an ultimatum, telling Miller she'll walk if he doesn't dismiss Finn and support the Metwork.
That night at home, Davina rejects Banjo's advances.
Miller watches news coverage which makes it clear that Delgado, having followed Liz's advice, has emerged from the potential scandal unscathed. Miller smashes his TV in frustration.
Need to catch up? Read the recap of Episode 1.