6 Questions with "BABYLON" Star James Nesbitt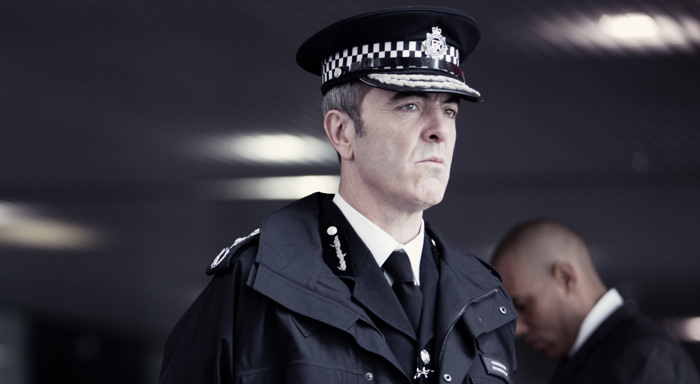 James Nesbitt, who plays BABYLON's Commissioner Richard Miller, talks about what kind of cop he'd be in real life, working with Danny Boyle again and his future as an actor.
Q: You've played a policeman before. Now you're playing the top police job in the country, does it feel like a promotion?
A: Well, it doesn't get much higher than that! I played Murphy for years, who was an undercover cop. What's interesting about that is, as an undercover cop, you're not responsible for a load of other people, you're only responsible for those around you on the case that you're working on. Richard has to look after the welfare of 10 million people, so although it felt like a promotion, I think the complexities of what it must be like to be the Commissioner, the politics involved, the endless to-ing and fro-ing with Westminster and the press, I think it's a hugely pressurized job. It's a very protected job, it's a very important job.
Q: What research did you do for the part?
A: There are different strands to the drama, and every different group in the drama had a different police expert involved with them. We were very lucky because we had Brian Paddick come and talk to us for quite a long time, and he gave us a very interesting insight into just how complicated and how fragile that world is, in terms of keeping everything together, keeping clear of scandal, keeping the politicians happy, serving to community and so on. He was great. I also read quite a bit. And the script brings you a lot as well.
Q: Knowing what you do now, what sort of a policeman would you have made, and what sort of a Chief of Police would you have made?
A: Oh God! I like to think that I'd have been quite community-based and quite progressive. But in terms of Commissioner, I think I'd be out on my arse within about a week. I'd definitely upset someone.
Q: What was it like working with Executive Producer Danny Boyle and writers Sam Bain and Jesse Armstrong?
A: I'd worked with Danny before and he's brilliant (Millions). He's the most collaborative, least ego-driven director. He reminds me of Paul Greengrass, actually. He's just got this amazing energy, wonderful vision, always listens to his actors, is very funny, great with the crew. And Sam and Jesse are just a delight. They're very funny and very accessible, very switched on, incredibly intelligent. It was such a great atmosphere, I can't wait to get back there and get working on it all again.
Q: Are there any roles you still yearn to play, or people you long to work with?
A: I'd love to work with Paul Greengrass again. There are loads of roles I'd like. I think I'm entering a different phase as an actor. I'm looking forward to getting older, and the parts being a bit quirky and interesting. I just want to be challenged by new writing, and hope that people still want to employ me.
Q: What roles in your career have given you the most pleasure?
A: It's hard to be specific. Clearly the jobs that had an impact were things like Cold Feet, which introduced me to a very wide audience. Clearly, there were good things that came out of that in that it opened the door to other work, and there were different things in that it made me very famous, which can be difficult at times. I loved that, and I loved how that character developed. The work we did on Murphy's Law was great, we really changed it and made it very gritty. That was a very good cop show. And Bloody Sunday was hugely important to me, in terms of allowing me to see that acting could have worth. I always thought it was a rather silly profession, but this showed me that something like a TV drama can make a real difference to people.
BABYLON premieres Thu., Jan. 8 at 10/9C on SundanceTV.
Are you a superfan? See what other roles James Nesbitt is known for and vote for your favorite!