Before "BABYLON": Top 5 Paterson Joseph Movies and TV Shows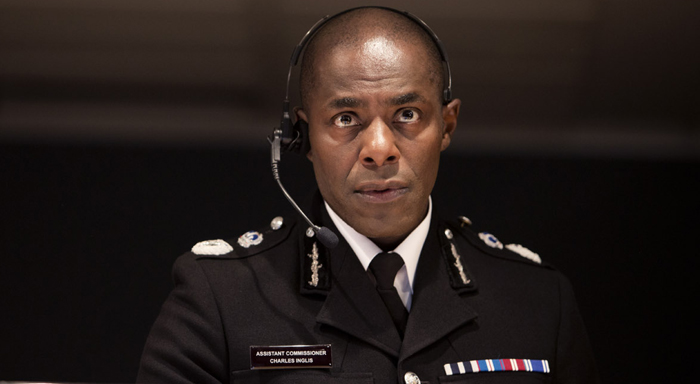 This BABYLON star's appearances run the gamut from his award-winning stage work with the world-renowned Royal Shakespeare Company, to TV appearances in UK scifi institution Doctor Who and cult sketch comedy series That Mitchell and Webb Look. Seemingly never playing the same type twice, this chameleon-like performer modulates each character's confidence, gravitas, integrity and inner turmoil to create a perfectly unique and memorable figure for any occasion. Don't take our word for it — check out these five examples:
1. Æon Flux
This effects-laden scifi actioner stars Charlize Theron as the title character, a deadly freedom fighter on a mission to kill the leader of the corrupt, walled-in, stronghold of humanity's postapocalyptic remnants known as Bregna. Joseph plays Giroux, a principled higher-up who opposes Æon Flux and her group of radicals despite his good intentions. Joseph manages the tricky feat of imbuing the misguided obstacle with sympathetic, even noble qualities that allow the character to serve as a representation of a whole segment of the tortured society.
2. The Beach
Joseph's first project with BABYLON producer/director Danny Boyle, The Beach stars Leonardo DiCaprio as a bored young tourist who travels to Thailand and discovers a secret, seemingly idyllic colony of islanders led by Sal (Tilda Swinton). Joseph plays Keaty, an earnest, Christian, cricket-loving member of the community who initially discovers DiCaprio and his fellow intruders.
3. The Leftovers
This unique post-rapture drama from LOST writer Damon Lindelof premiered on HBO in 2014. Joseph plays "Holy Wayne" Gilchrest, a messianic figure who emerges in the wake of the mysterious event that vanishes a small percentage of the earth's population without a trace. The charismatic Wayne attracts followers by the scores and promises faith-based "healing", but Justin Theroux's police chief is none too pleased when his son (Chris Zylka) joins the group.
4. Neverwhere
This 1996 TV miniseries, penned by beloved British fantasy author Neil Gaiman and later adapted into novel and comic form, tells the surreal tale of a parallel city beneath real-world London populated by homeless fantastical characters and lost souls from all eras of human history. Joseph plays the series' breakout character, the arrogant, semi-villanous trickster known as the Marquis de Carabas. Donning a bizarre two-tone wig and leather finery, Joseph makes the mysterious onetime nobleman impossible to forget.
5. Peep Show
In BABYLON creators Jesse Armstrong and Sam Bain's long-running cult classic sitcom, Joseph plays suave alpha-male Alan Johnson, an ambitious and possibly sociopathic corporate manager who alternately inspires and terrorizes the bumbling Mark Corrigan (David Mitchell). Joseph's hilariously confident, snarling performance has made Johnson one of the brilliant series' fan favorites, always guaranteed to shake things up whenever he gets involved in the lives of Mark or slacker best friend Jez (Robert Webb).
BABYLON premieres Thu., Jan. 8 at 10/9C on SundaneTV.
Yearning for more? Take the James Nesbitt and Brit Marling quizzes to see how much you know about Joseph's BABYLON co-stars.