Before "BABYLON": Top 5 James Nesbitt Movies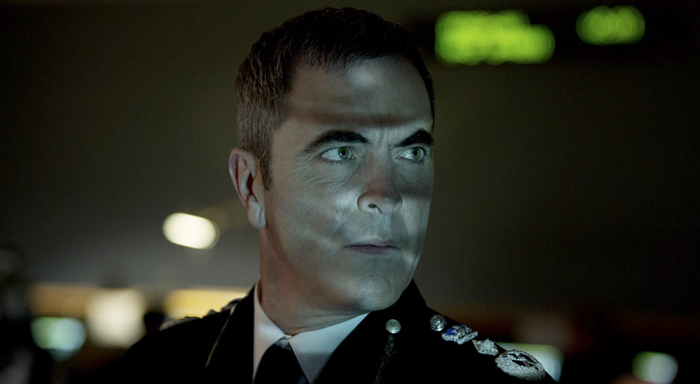 Before starring in BABYLON as London's Police Commissioner Richard Miller, James Nesbitt headlined classic UK series from long-running undercover police drama Murphy's Law to acclaimed serials like horror adaptation Jekyll and Iraq War story Occupation. The charismatic Northern Irish TV star has also lit up the big screen in acclaimed supporting roles. Here are five of the best:
1. Coriolanus
This highly acclaimed modern-day retelling of the relatively obscure Shakespeare tragedy was helmed by Ralph Fiennes in his directorial debut. Nesbitt plays against type as the scheming senator Sicinius, whose status is threatened when Caius Martius Coriolanus (Fiennes) comes to power in Rome. Alongside fellow tribune Brutus (theater star Paul Jesson), Sicinius makes it his business to take down the conquering hero.
2. Five Minutes of Heaven
This drama from ONE CHILD scribe Guy Hibbert and Downfall director Oliver Hirschbiegel pairs Nesbitt with Northern Ireland's other best-known actor, Liam Neeson. Premiering at the Sundance Film Festival in 2009, the semi-historical Five Minutes of Heaven follows Nesbitt's vengeance-seeking family man as a reconciliation project arranges for him to meet Alistair Little (Neeson), the man who killed his brother before his eyes three decades previous. Nesbitt is captivating as he puts the conflicted character's convictions to the test.
3. The Hobbit Franchise
Nesbitt pops up in all three installments of Peter Jackson's New Zealand-shot fantasy epic as Bofur, one of the most outspoken of the twelve dwarves who accompany a young Bilbo Baggins (Martin Freeman) to the lair of the dragon Smaug (Benedict Cumberbatch). Nesbitt turns in a memorable performance under all that beardage and makeup as the charming diminutive warrior, who stands out for his wit, his no-nonsense approach and the occasional act of bravery.
4. Match Point
One of Woody Allen's bleakest films, the London-set Match Point nonetheless never fails to provide entertainment, at turns sexy, suspenseful and hilarious. Nesbitt's role falls into the latter-two categories. As the affable Detective Mike Banner, charged with investigating a horrific crime linked to Jonathan Rhys Meyers's newlywed former tennis pro, Nesbitt turns up the heat on the guilty party with good humor and an unfailing instinct for justice. Though in Allen's nihilistic universe, this quality may only go so far.
5. Millions
Nesbitt's first collaboration with BABYLON producer/director Danny Boyle finds Nesbitt in a vital supporting role as the hard-working, widowed father of 8-year-old Damian Cunningham (Alex Etel), who struggles to provide a proper Christmas for his sons and finds a spark of romance with donation-collector Dorothy (Death At a Funeral's Daisy Donovan) after she's forced to report Damian for depositing a large, mysteriously-gotten bundle of cash in his school's donation can.
BABYLON premieres Thu., Jan. 8 at 10/9C on SundaneTV.
Are you a James Nesbitt super fan? Take the James Nesbitt quiz to see how much you know about the BABYLON star.