Before "BABYLON": Top 5 Brit Marling Movies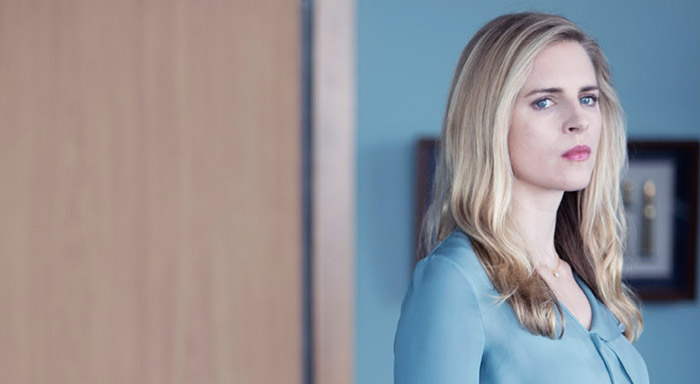 Brit Marling's much-acclaimed on-screen brilliance, effortless glamour and genuine independent sensibility is quickly making her a true movie star for the indie set in an era where that sort of Golden Age-style cachet is almost impossible to come by. Marling certainly hasn't taken an old-school route, however, turning down a job at Goldman Sachs to jump into the film world where she's remained extremely selective in her roles and written and produced a number of her own projects. Marling has also been appointed a judge at this year's Sundance Festival. Here are five films that showcase what the BABYLON star can do:
1. Another Earth
This emotional sci-fi drama, co-written by Marling and frequent collaborator/director Mike Cahill, tells the story of Marling's brainy, astronomy-obsessed high school senior, Rhoda, who celebrates her admission to MIT with an uncharacteristic night of carefree partying. Rhoda's moment of recklessness has devastating consequences, but a newly discovered Earth-like planet that may serve as a parallel universe might provide a way out. Another Earth was a major hit when it premiered at the Sundance Film Festival, sparking off a bidding war between top distributors and earning Marling a pair of Saturn Award nominations for her work as writer and star, along with Best Actress awards from the San Diego Film Critics Society and the Sitges Film Festival.
2. Arbitrage
This acclaimed drama racked up award nods and scored a spot on best-of-2012 lists for its combination of smart plotting and powerful performances. Brooke (Marling) is the daughter and business partner of high-powered financial fraud Robert Miller (Richard Gere, in what many critics hailed as a career-best performance). Marling plays the scion as self-assured, suspicious and outraged with utter realism and poise.
3. The Company You Keep
This well-received political thriller stars Robert Redford as Jim Grant, a Civil Rights Era radical discovered by Shia LeBeouf's ambitious reporter after three decades successfully hidden as an upstate New York defense attorney. Marling plays the daughter of Henry Osborne (Brendan Gleeson), the possibly-shady police officer who originally investigated Jim's crimes. When Marling's character finds herself at the center of a web of deceit and scheming as more and more lies are exposed, her very identity may be at stake.
4. The East
Also serving as co-writer and producer alongside director Zal Batmanglij, Brit Marling stars as an agent for a private intelligence firm in The East, which takes on the subject of radical activism from a very different angle. Sent to infiltrate a modern day, underground eco-terrorist group including the charismatic Benji (Alexander Skarsgard) and the well-connected Izzy (Ellen Page), Marling's undercover operative gets wrapped up in complex politics and even more complicated emotions.
5. Sound of My Voice
Batmanglij's feature debut co-stars Marling (again also credited as a writer and producer) as the enigmatic Maggie, an ethereal cult leader and self-proclaimed time-traveler from the future, whom a pair of aspiring documentarians (Christopher Denham and Nicole Vicius) seek to expose as a fraud. Marling was nominated for an Independent Spirit Award for her fascinating turn as the one-of-a-kind character.
BABYLON premieres Thu., Jan. 8 at 10/9C on SundaneTV.
Yearning for more? Find out what movies James Nesbitt and Paterson Joseph appeared in before helming BABYLON.