6 Questions with "BABYLON" Writing Duo Sam Bain and Jesse Armstong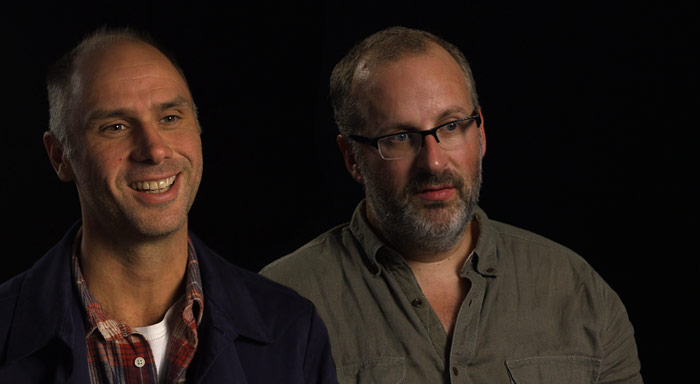 BABYLON's writing duo Sam Bain and Jesse Armstrong, two of TV's most original voices, discuss developing their unique approach to a police comedy-drama, working with series producer Danny Boyle and Jesse's involvement with the writing of Veep.
Q: What originally inspired the BABYLON's focus on the police force's PR department?
Sam Bain: We wanted to take a fresh angle on UK police that hadn't been seen before and we felt that PR and media relations were an aspect of police work that's hugely significant and ripe for drama and comedy but relatively unexplored. The challenges facing a huge, established organization in the modern media age felt like an exciting theme for us.
Q: What's Danny Boyle like as a producer?
Sam Bain: He's great, he was involved a lot more than we dared hope. Even when he was in the States working on a movie he would always feed in thoughts on scripts and looking at casting tapes. He felt completely committed to the show and I think everyone involved – particular the directors Jon S. Baird and Sally El Hosaini, who he supported all the way through – felt the benefits of that.
Q: Some say writing comedy is more difficult than drama. After working on BABYLON, would you agree?
Sam Bain: Well we always envisaged BABYLON as a comedy-drama which is arguably the most difficult genre of all. Mainly because you are constantly trying to get the tone right – mixing office politics with sweary jokes and action sequences is a challenge we hadn't faced before. Pulling the arc of the series together over six episodes was possibly the biggest mental task but also the most satisfying.
Q: You also worked on The Thick of It. What's been the biggest difference between satirizing the Department of Social Affairs and the London Police Department?
Jesse Armstrong: Well, DOSAC doesn't have an armed wing. If they ever killed anyone it would be by an extremely indirect bureaucratic method of funding screw-up. I guess there is a vein of seriousness with policing – it's a front-line public service, and it's also got the power to coerce the pubic. So while weird, screwy, funny things happen within the ambit of policing, it remains pretty serious at its core.
Q: How'd you end up writing the Season 1 finale of Veep?
Jesse Armstrong: In the first season the team was a pretty Thick of It-centric one. Armando and Simon invited me to be involved, I was busy with other things or I would have written more. But it was so great to go to Baltimore and see the show in operation and meet that amazing cast.
Q: You also created Peep Show, in which characters' inner thoughts play as voiceover. How much of a sense do you have of BABYLON characters' interior monologues?
Jesse Armstrong: Interesting. I guess that show invites us to do something you don't normally do which is make explicit the subtext beneath what people say. I suppose to be writing characters in a show you need to know what they're really thinking – the interior monologue – then what they say is an interesting counterpoint to that. But you have to give the audience clues through the characters' actions as to whether there's a dissonance between what they're saying and what they're doing. I guess that's where the fun for the audience and the writer lies – how different what we say is from what we do, and to what extent we're aware of that difference.
BABYLON premieres Jan. 8 at 10/9c on SundanceTV.
Can't wait for the premiere? Get a sneak peek from the premiere episode.