Cast Members
Electric Love Light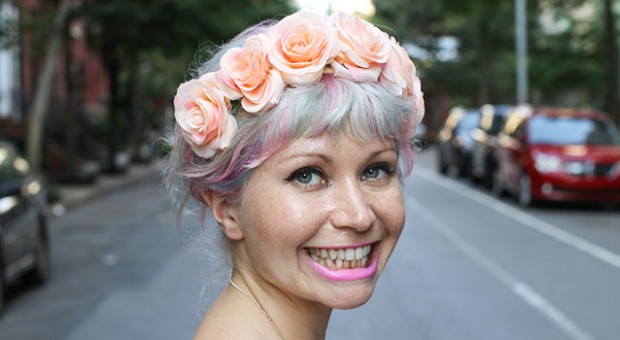 Wearing mismatched socks and pink lipstick to kindergarten, you could say Andrea Diodati had an early affinity for fashion. Growing up in Canada, she escaped the winters by daydreaming and dressing up in her Grandma's closet.
At 18, Andrea opened her first boutique in her dorm room while attending McGill University in Montreal. In 2008, she moved to New York to attend Parsons The New School for Design to realize her dream of being a fashion designer. To her surprise, she discovered she was an artist as well.
Andrea's artist books, films and performances have been exhibited in New York, Tokyo, and Toronto. She was featured in Artforum's February 2011 issue for her design and art defying practices. Some of Andrea's experiments include automatic sewing exploring the emotional impact of consumption, 'slooow fast fashion' meditations outside of H & M, and theatrically occupying fashion week.
In 2010, she conceived her dearest creation: Electric Love Light, a contemporary whimsical women's wear line for the sophisticatedly quirky. Ms. Diodati's mission is to clothe women in expressions of joy and lightheartedness to uplift and enable self-expression and creativity in the closet.