W.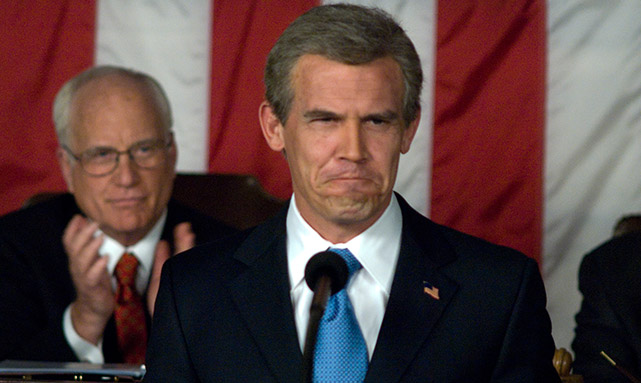 | Time | Day |
| --- | --- |
| No airtimes found. | |
W. is a 2008 American film based on the life and presidency of George W. Bush. It was produced and directed by Oliver Stone, written by Stanley Weiser, and stars Josh Brolin as Bush, with a cast that includes Ellen Burstyn, Elizabeth Banks, James Cromwell, Thandie Newton, Jeffrey Wright, Scott Glenn, and Richard Dreyfuss. Filming began on May 12, 2008, in Louisiana and the film was released on October 17.
In 1966, George W. Bush (Josh Brolin) endures an alcohol-fueled initiation by his fellow Yale University students as a Delta Kappa Epsilon pledge. During the hazing, Bush successfully recalls the names and nicknames of many of the fraternity members, and states that his family's political legacy is one in which he has no interest. A little later, after the younger Bush is jailed in New Jersey for rowdiness following a football game, his father, George H. W. Bush (James Cromwell), states that he will help the younger Bush, but for the last time. Following his graduation from Yale, Bush takes a job at an oil patch back in his home state of Texas, but he quits after only a few weeks.

Portions from Freebase, licensed under CC-BY and Wikipedia
licensed under the GFDL