Twister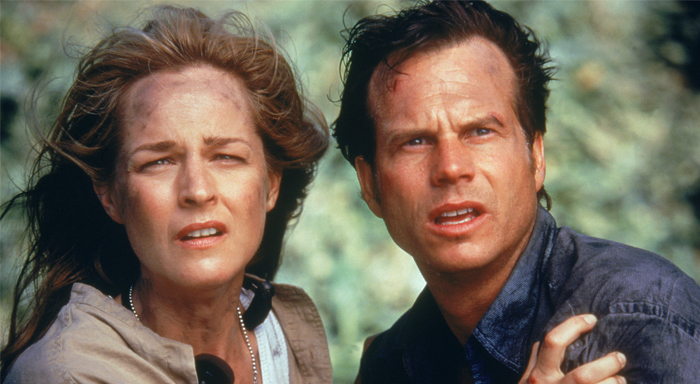 Twister is a 1996 American disaster drama film starring Helen Hunt and Bill Paxton as storm chasers researching tornadoes. It was directed by Jan de Bont from a screenplay by Michael Crichton and Anne-Marie Martin. Its executive producers were Steven Spielberg, Walter Parkes, Laurie MacDonald and Gerald R. Molen. Twister was the second-highest grossing film of 1996 domestically, with an estimated 55 million tickets sold in the US.
In the film, a team of storm chasers try to perfect a data-gathering instrument, designed to be released into the funnel of a tornado, while competing with another better-funded team with a similar device during a tornado outbreak across Oklahoma. The plot is a dramatized view of research projects like VORTEX of the NOAA and the device, called Dorothy, is copied from TOTO used in the 1980s by NSSL.
Twister is notable for being both the first Hollywood feature film to be released on DVD format and one of the last to be released on HD DVD. Twister has since been released on Blu-ray disc.
In June 1969, a family that included a five year-old girl called Jo sought shelter in a storm cellar as a powerful F5 tornado struck.

Portions from Freebase, licensed under CC-BY and Wikipedia
licensed under the GFDL