This Is Spinal Tap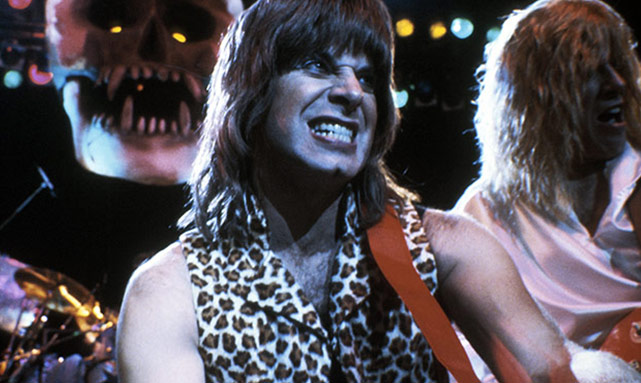 | Time | Day |
| --- | --- |
| No airtimes found. | |
This Is Spinal Tap (stylized with Metal umlaut over the "n") is an American 1984 rock and roll musical mock documentary directed by Rob Reiner about the fictional heavy metal music band Spinal Tap. The movie satirizes the wild personal behavior and musical pretensions of hard rock and heavy metal musical bands, as well as the hagiographic tendencies of rock documentaries of the time.
Reiner and the three main actors are credited as the writers of the movie, based on the fact that much of the dialogue was ad libbed by them. Several dozen hours of footage were filmed before Reiner edited it to the released movie. A 4½ hour bootleg version of the movie exists and has been traded among fans and collectors for years.
The three main members of Spinal Tap—David St. Hubbins, Derek Smalls and Nigel Tufnel—are played by the American actors Michael McKean and Harry Shearer, and English-American actor Christopher Guest, respectively. The three actors play their musical instruments and speak with mock English accents throughout the movie. Reiner appears as Marty DiBergi, the maker of the documentary. Other actors of the movie are Tony Hendra as group manager Ian Faith and June Chadwick as St.

Portions from Freebase, licensed under CC-BY and Wikipedia
licensed under the GFDL