The Sum Of All Fears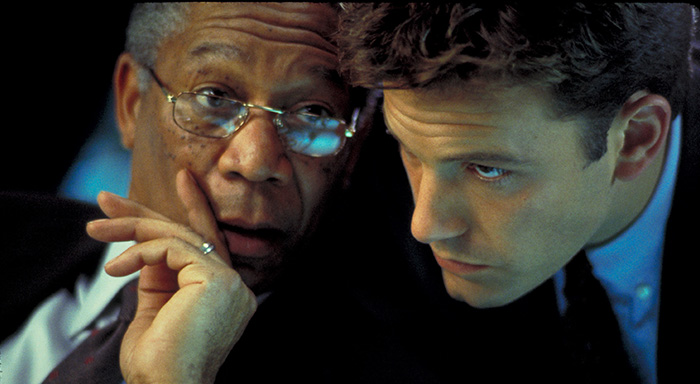 | Time | Day |
| --- | --- |
| No airtimes found. | |
The Sum of All Fears is a 2002 American action film/political thriller directed by Phil Alden Robinson and based on the novel The Sum of All Fears by Tom Clancy. Starring Ben Affleck and Morgan Freeman it was released by Paramount Pictures in the United States on May 31, 2002.
This fourth film in the Jack Ryan film series is a reboot set in 2002, with Ryan portrayed as younger than in the 1990 film The Hunt for Red October (set in 1984), and that film's sequels, Patriot Games and Clear and Present Danger.
During the 1973 Yom Kippur War, an Israeli A-4 Skyhawk carrying a nuclear weapon is shot down over the Syrian desert. The bomb, over time, is consumed by the sand and disappears.
Twenty-nine years later, President J. Robert Fowler (James Cromwell) and his senior national security advisors, including CIA Director William Cabot (Morgan Freeman), are conducting a top-secret military simulation of a Russian nuclear attack against the United States. Meanwhile, the bomb is found in Syria by a couple of scrap dealers and unwittingly sold to an arms dealer named Olson (Colm Feore), who in turn sells it to an Austrian neo-Nazi named Richard Dressler (Alan Bates) for US$50 million.

Portions from Freebase, licensed under CC-BY and Wikipedia
licensed under the GFDL