Stripes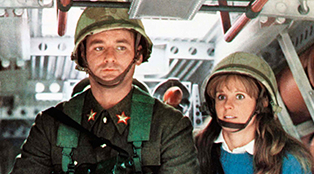 | Time | Day |
| --- | --- |
| No airtimes found. | |
Stripes is a 1981 American comedy film directed by Ivan Reitman, starring Bill Murray, Harold Ramis, Warren Oates, P. J. Soles, and John Candy. It also featured several actors in their first significant film roles, including John Larroquette, Sean Young, John Diehl, and Judge Reinhold. It was one of John Candy's breakthrough film appearances. Dave Thomas, Bill Paxton, Joe Flaherty, and Timothy Busfield also appear.
John Winger (Murray) is a cab driver, who, in the span of a few hours, loses his job, his car, and his girlfriend. Realizing that his life is a failure, he decides to join the U.S. Army. Talking his best friend, Russell Ziskey (Ramis) into joining him, they drive to a recruiting office and are soon off to basic training.
Upon arrival at Fort Arnold, they meet their fellow recruits, as well as their drill sergeant, Sergeant First Class Hulka (Oates). Moments after arriving, Winger offends Sgt. Hulka and is ordered out to do push-ups. He stands out as a misfit throughout the rest of basic training. Their commanding officer is the incompetent Captain Stillman (Larroquette).

Portions from Freebase, licensed under CC-BY and Wikipedia
licensed under the GFDL