Smokey and the Bandit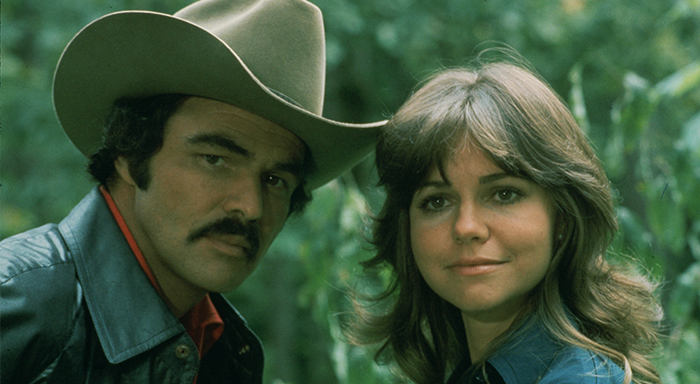 Smokey and the Bandit is a 1977 action comedy film starring Burt Reynolds, Sally Field, Jackie Gleason, Jerry Reed, Pat McCormick, Paul Williams, and Mike Henry. It inspired several other trucking films, including two sequels, Smokey and the Bandit II, and Smokey and the Bandit Part 3.
There were also a series of 1994 television films (Bandit Goes Country, Bandit Bandit, Beauty and the Bandit, and Bandit's Silver Angel) from original director/writer Hal Needham loosely based on the earlier version, with actor Brian Bloom now playing Bandit. The three original films introduced two generations of the Pontiac Trans Am. The film was the fourth highest-grossing film of 1977.
Rich Texas wheeler-dealer Big Enos Burdette and his son, Little Enos, are trying to find a truck driver willing to haul Coors beer to Georgia for their refreshment. At the time, Coors was only distributed in certain states west of the Mississippi River, and truck drivers who had taken the bet previously had been discovered and arrested by "Smokey" (truck driver and CB slang for highway patrolmen).

Portions from Freebase, licensed under CC-BY and Wikipedia
licensed under the GFDL