Roxanne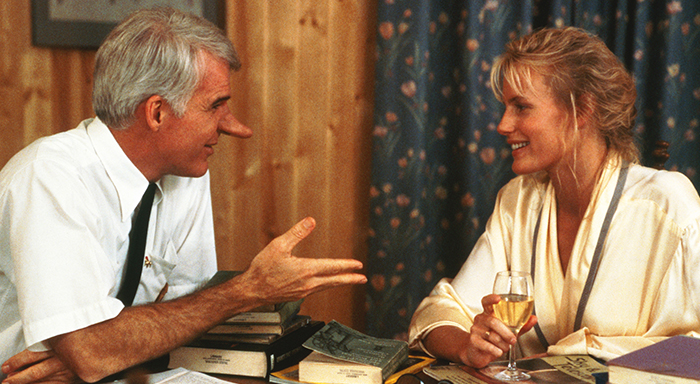 | Time | Day |
| --- | --- |
| No airtimes found. | |
Roxanne is a 1987 American comedy film directed by Fred Schepisi. It is a modern retelling of Edmond Rostand's 1897 verse play Cyrano de Bergerac, adapted by Steve Martin and starring Martin and Daryl Hannah.
Charlie "C.D." Bales (Steve Martin) is the fire chief in a small American town in the Pacific Northwest. C.D. is witty, acrobatic and skilled at many things, but he has a very large nose about which he is violently sensitive. He falls in love with Roxanne Kowalski (Daryl Hannah), a beautiful astronomer, but she is infatuated with Chris (Rick Rossovich), a handsome but dim fireman. As in the play, Bales is touchy about his perceived ugliness (which he cannot have surgically altered because of a dangerous allergy to anesthetics) and speaks to the object of adoration the only way he can: he writes expressions of love in letter form and allows Chris to present them to Roxanne as if they were his own.
Roxanne receives a letter from Chris telling her that he has left town and with another woman. C.D.'s friend Dixie reveals that the letters Roxanne thought were written by Chris were actually written for her by C.D. When C.D.

Portions from Freebase, licensed under CC-BY and Wikipedia
licensed under the GFDL