Platoon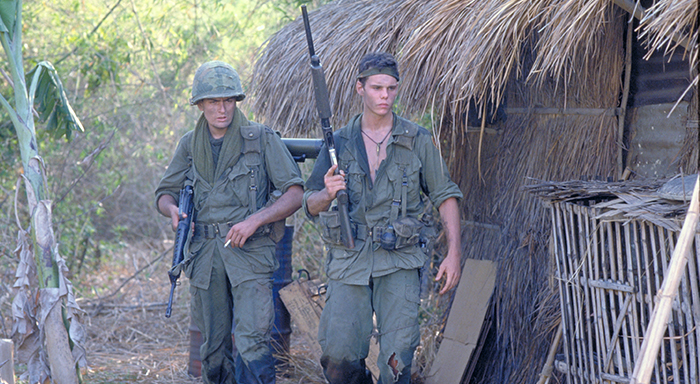 | Time | Day |
| --- | --- |
| No airtimes found. | |
Platoon is a 1986 American war film written and directed by Oliver Stone and stars Tom Berenger, Willem Dafoe and Charlie Sheen. It is the first of Stone's Vietnam War trilogy, followed by 1989′s Born on the Fourth of July and 1993′s Heaven & Earth.
Stone wrote the story based upon his experiences as a U.S. infantryman in Vietnam to counter the vision of the war portrayed in John Wayne's The Green Berets. The film won the Academy Award for Best Picture of 1986. In 2007, the American Film Institute placed Platoon at #83 in their "AFI's 100 Years… 100 Movies" poll. British television channel Channel 4 voted Platoon as the 6th greatest war film ever made, behind Full Metal Jacket and ahead of A Bridge Too Far.
In 1967, Chris Taylor (Charlie Sheen) has dropped out of college and volunteered for combat duty in Vietnam. Assigned to Bravo Company, near the Cambodian border, he is worn down by the exhausting conditions and his enthusiasm for the war wanes. One night his unit is set upon by a group of North Vietnamese Army (NVA) soldiers, who retreat after a brief gunfight.

Portions from Freebase, licensed under CC-BY and Wikipedia
licensed under the GFDL