Mystic River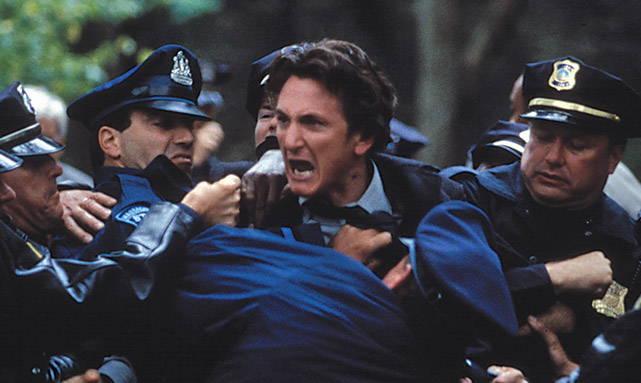 | Time | Day |
| --- | --- |
| No airtimes found. | |
Mystic River is a 2003 American drama film directed, co-produced and scored by Clint Eastwood, starring Sean Penn, Tim Robbins, Kevin Bacon, Laurence Fishburne, Marcia Gay Harden, Laura Linney and Emmy Rossum. The film was written by Brian Helgeland, based on Dennis Lehane's novel of the same name.
The film opened to widespread critical acclaim. It was nominated for Academy Awards for Best Picture, Best Director, Best Actor, Best Adapted Screenplay, Best Supporting Actress and Best Supporting Actor. Sean Penn won Best Actor and Tim Robbins won Best Supporting Actor, making Mystic River the first film to win both awards since Ben-Hur in 1959.
Three boys, Jimmy Markum, Sean Devine and Dave Boyle, play hockey in a Boston street in 1975. Spotting wet concrete, the boys commence writing their names into it when a car pulls up and two men, pretending to be police officers, get out, berate the boys for their actions, and tell Dave to get into the car. The men are pedophiles, and hold Dave captive and sexually abuse him for four days, until he escapes.
Twenty-five years later, the boys are now grown and, while they still live in Boston, have drifted apart.

Portions from Freebase, licensed under CC-BY and Wikipedia
licensed under the GFDL