Mommie Dearest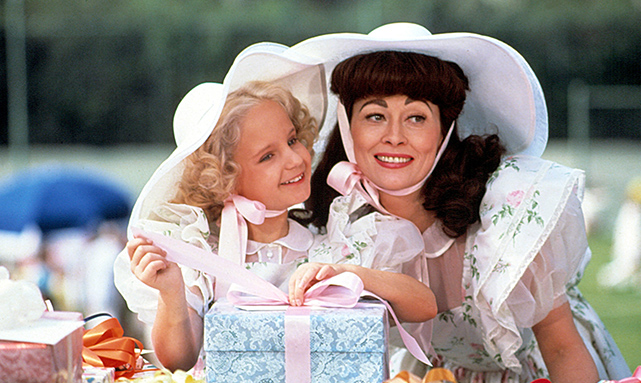 | Time | Day |
| --- | --- |
| No airtimes found. | |
Mommie Dearest is a 1981 American biographical drama film about Joan Crawford, starring Faye Dunaway. The film was directed by Frank Perry. The story was adapted for the screen by Robert Getchell, Tracy Hotchner, Frank Perry, and Frank Yablans, based on the 1978 autobiography of the same name by Christina Crawford. The executive producers were Christina's husband, David Koontz, and Terrence O'Neill, Dunaway's then-boyfriend and soon-to-be husband.
The film was a commercial success, but a critical semi-disaster and was eventually disliked by Dunaway herself. However, it has become a cult classic.
Joan Crawford (Faye Dunaway) is a driven actress and compulsively clean housekeeper who tries to control the lives of those around her as tightly as the self-control she exhibits. To prepare for a work day at MGM Studios, she rises at 4:00am and engages in a slightly neurotic morning ritual, scrubbing her face with soap and boiling hot water, then plunging her head into a vat of distilled water and ice to close the pores. Joan is obsessed with cleanliness and wants those around her to follow her instructions to the letter.

Portions from Freebase, licensed under CC-BY and Wikipedia
licensed under the GFDL