Misery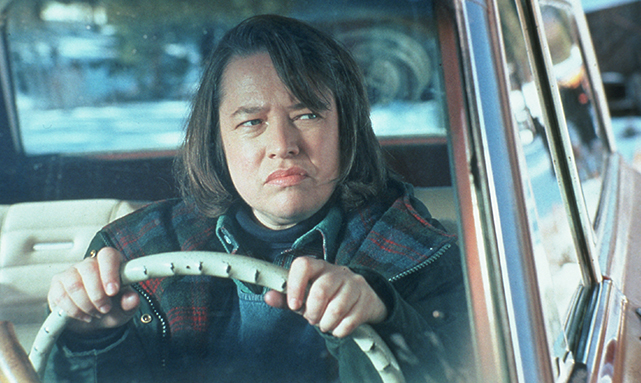 Misery is a 1990 American psychological horror thriller film based on Stephen King's 1987 novel of the same name and starring James Caan, Kathy Bates, Lauren Bacall, Richard Farnsworth, and Frances Sternhagen. Directed by Rob Reiner, the film received critical acclaim for Bates' performance as the psychopathic Annie Wilkes. The film was ranked #12 on Bravo's 100 Scariest Movie Moments.
Bates won the Academy Award for Best Actress for her role as Annie Wilkes in Misery.
The film was remade in India as a Tamil film called Julie Ganapathi.
Famed novelist Paul Sheldon (James Caan) is the author of a successful series of novels involving a character called Misery Chastain. But Paul wants to branch out and has just finished the manuscript of a new unrelated novel. He departs from Silver Creek, Colorado to head west but is caught in a blizzard and his car goes off the road. He is rescued by a nurse named Annie Wilkes (Kathy Bates) and brought to her remote home. Both of Paul's legs are broken and he has a dislocated shoulder, so he is bedridden and incapacitated. Annie claims she is his "number one fan" and talks a lot about him and his novels.

Portions from Freebase, licensed under CC-BY and Wikipedia
licensed under the GFDL