Master and Commander: The Far Side of the World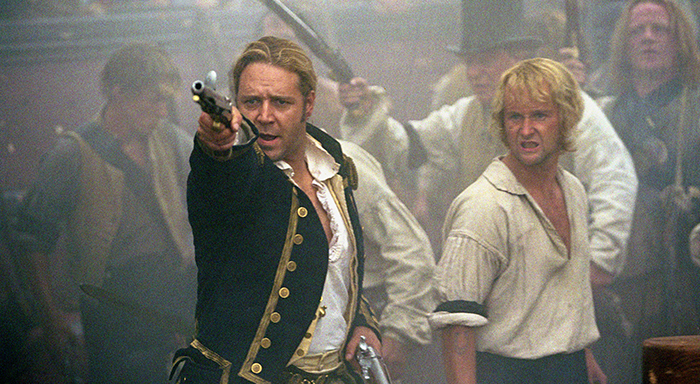 | Time | Day |
| --- | --- |
| No airtimes found. | |
Master and Commander: The Far Side of the World is a 2003 American epic historical drama film directed by Peter Weir, starring Russell Crowe as Jack Aubrey, with Paul Bettany as Stephen Maturin and released by 20th Century Fox, Miramax Films and Universal Studios. The film's plot and characters are adapted from three novels in author Patrick O'Brian's Aubrey–Maturin series, which has a total of 20 novels of Jack Aubrey's naval career.
At the 76th Academy Awards, the film was nominated for 10 Oscars, including Best Picture. It won in two categories, Best Cinematography and Best Sound Editing and lost in all other categories to The Lord of the Rings: The Return of the King.
The film takes place in May 1805, during the Napoleonic Wars. Captain "Lucky Jack" Aubrey of HMS Surprise is ordered to pursue the French privateer Acheron, and "Sink, Burn, or take her a Prize." As the film opens, a crewmember aboard the British warship hears a bell sound and the ship becomes alert. As captain Aubrey looks through his telescope at the fog, he sees cannonfire, and the ship is ambushed by Acheron, a ship twice as large as the British warship is.

Portions from Freebase, licensed under CC-BY and Wikipedia
licensed under the GFDL