Lucky Number Slevin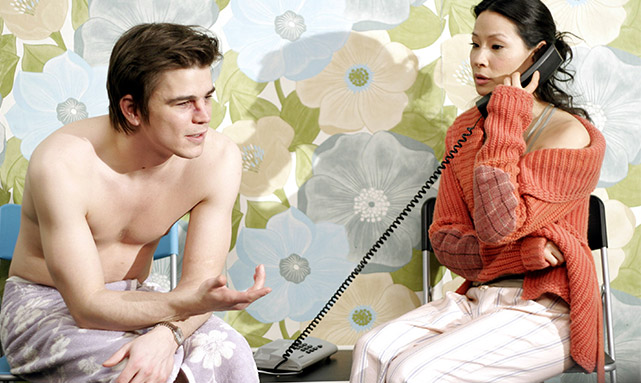 | Time | Day |
| --- | --- |
| No airtimes found. | |
Lucky Number Slevin, renamed for the German/USA DVDs as Lucky # Slevin (and also known as The Wrong Man in Australia), is a 2006 crime thriller film written by Jason Smilovic, directed by Paul McGuigan and starring Josh Hartnett, Bruce Willis, Morgan Freeman, Ben Kingsley, Stanley Tucci, and Lucy Liu. Set in New York City, the plot focuses on the paths of Slevin Kelevra (Hartnett), Lindsey (Liu), two feuding crime lords known as The Boss (Freeman) and The Rabbi (Kingsley), and a mysterious hitman known as Mr. Goodkat (Willis).
During the film's opening credits, two bookies are separately ambushed and murdered, their ledgers stolen from their bodies by their unseen killers. Elsewhere, a young black man walks out of a downtown building and is shot and killed by a sniper.
In a bus terminal, a young man is approached by a man in a wheelchair named Goodkat (Bruce Willis), who tells the story of Max and the Kansas City Shuffle. Two decades earlier, Max borrowed money and bet on a fixed horse race. When the mob found out that word had gotten out about the fix, they killed the horse before it reached the finish line, then killed Max for being unable to pay back the loan.

Portions from Freebase, licensed under CC-BY and Wikipedia
licensed under the GFDL