Lethal Weapon 4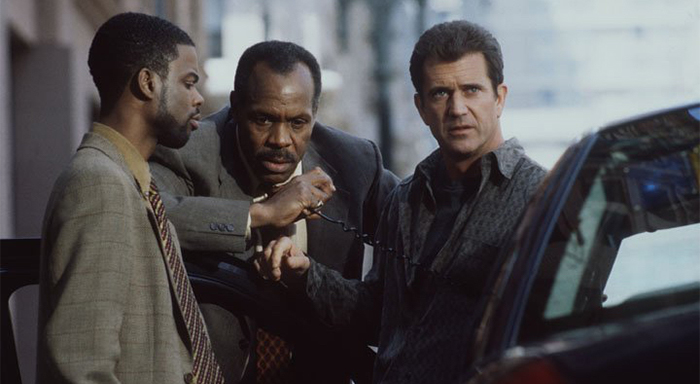 | Time | Day |
| --- | --- |
| No airtimes found. | |
Lethal Weapon 4 is a 1998 American buddy cop martial arts action thriller film directed by Richard Donner, starring Mel Gibson, Danny Glover, Joe Pesci, Rene Russo, Chris Rock and Jet Li. It is the third sequel in the Lethal Weapon series of films. This was Jet Li's first American film debut as Wah Sing Ku.
Lorna Cole is pregnant with LAPD sergeant Martin Riggs' baby; they are not married, but both are thinking about it. Police sergeant Roger Murtaugh's daughter Rianne is also pregnant, and Riggs later learns from Lorna that Rianne has secretly married Lee Butters (Chris Rock), a young detective who works at the same precinct as Murtaugh and Riggs – secretly because Roger had made it clear that his daughter should not marry a police officer.
Riggs, Murtaugh, and Butters – with some assistance from Leo Getz (Pesci), who is now a private detective – investigate a Chinese immigrant smuggling ring after they come across a vessel with a cargo hold of Chinese slave laborers; in the course of these events Murtaugh's boat is sunk. Murtaugh finds a dinghy alongside with a Chinese family whom he provides shelter for at his house, claiming to be "freeing slaves.

Portions from Freebase, licensed under CC-BY and Wikipedia
licensed under the GFDL