High Plains Drifter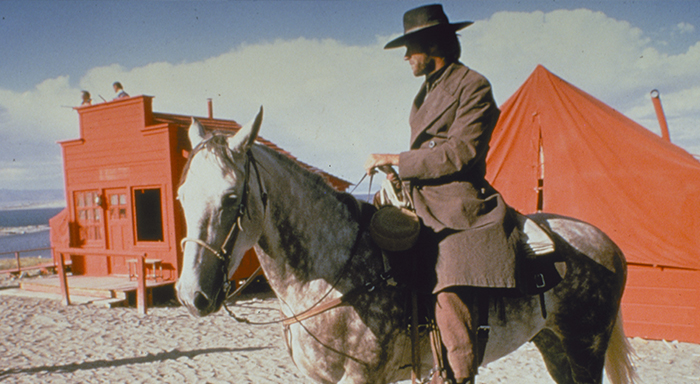 | Time | Day |
| --- | --- |
| No airtimes found. | |
High Plains Drifter is a 1973 American Western film, with a hint of the supernatural, directed by and starring Clint Eastwood and produced by Robert Daley for The Malpaso Company and Universal Pictures. Eastwood plays a mysterious gunfighter hired by the residents of a corrupt frontier mining town to defend them against a group of criminals. The film was influenced by the work of Eastwood's two major collaborators Sergio Leone and Don Siegel.
The film was shot on location on the shores of Mono Lake, California. The screenplay was written by Ernest Tidyman and an uncredited Dean Riesner. Tidyman wrote the novelization. Dee Barton provided the film's eerie musical score. The film was critically acclaimed at the time of its initial release and still is, holding a score of 96% on Rotten Tomatoes.
The story depicts the efforts of a small mining town to defend itself against a group of rogue gunfighters with the help of a mysterious outsider, referred to as the Stranger. The town reveals its timidity and corruption when they hire the Stranger to protect them.
As the film begins, the Stranger rides into the fictional mining town of Lago, in a setting similar to the Arizona territory.

Portions from Freebase, licensed under CC-BY and Wikipedia
licensed under the GFDL