Escape From Alcatraz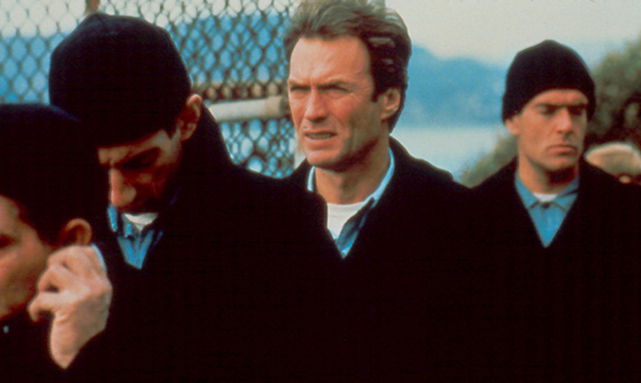 Escape from Alcatraz is a 1979 American prison film, directed by Don Siegel and starring Clint Eastwood. It dramatizes possibly the only successful escape attempt from the maximum security prison on Alcatraz Island. The film co-stars Fred Ward and also features Patrick McGoohan as the suspicious, vindictive warden; it also features the film debut of Danny Glover. The film marks the fifth and final collaboration between Siegel and Eastwood, following Coogan's Bluff (1968), Two Mules for Sister Sara (1970), The Beguiled (1971) and Dirty Harry (1971).
The story begins as Frank Morris (Clint Eastwood) arrives at the maximum security prison Alcatraz, having been sent there after escaping from several other prisons. He is sent in to meet the warden (Patrick McGoohan), who curtly informs him that no one has ever escaped from Alcatraz. Eventually he meets his old friends, brothers John and Clarence Anglin (Fred Ward and Jack Thibeau), and also makes the acquaintance of the prisoner in the cell next to his, Charlie Butts (Larry Hankin).

Portions from Freebase, licensed under CC-BY and Wikipedia
licensed under the GFDL