Don't Say a Word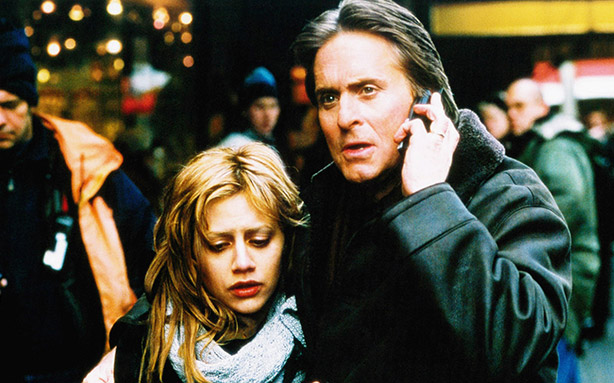 | Time | Day |
| --- | --- |
| No airtimes found. | |
Don't Say a Word is a 2001 psychological thriller film starring Michael Douglas, Brittany Murphy and Sean Bean based on the novel of the same title by Andrew Klavan. Don't Say a Word was directed by Gary Fleder and written by Anthony Peckham and Patrick Smith Kelly.
In 1991, a gang of thieves steal a rare $10 million gem, but in the process, two of the gang double cross their leader, Patrick Koster (Sean Bean) and take off with the precious stone.
Ten years later, on the day before Thanksgiving, prominent private practice Manhattan child psychiatrist, Dr. Nathan R. Conrad (Michael Douglas), is invited by his friend and former colleague, Dr. Louis Sachs (Oliver Platt), to examine a disturbed young lady named Elisabeth Burrows (Brittany Murphy) at the state sanatorium.
Having been released from prison on November 4, Patrick and the remaining gang members break into an apartment, which overviews Nathan's apartment, including his wife Aggie (Famke Janssen) and daughter Jessie (Skye McCole Bartusiak). That evening, Patrick kidnaps the psychiatrist's daughter as a means of forcing him to acquire a 6 digit number from Elisabeth's memory.

Portions from Freebase, licensed under CC-BY and Wikipedia
licensed under the GFDL