Constantine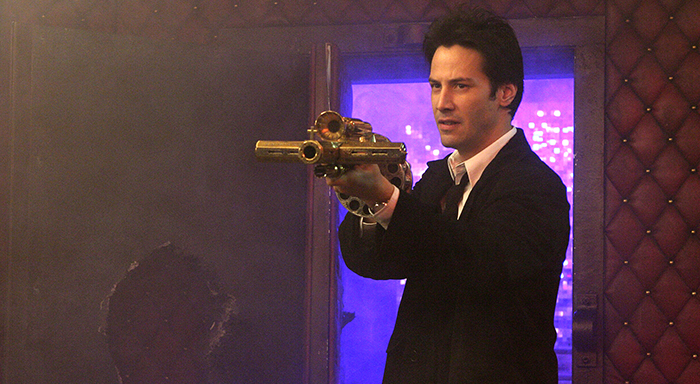 | Time | Day |
| --- | --- |
| No airtimes found. | |
Constantine is a 2005 American action horror film directed by Francis Lawrence as his directorial debut, starring Keanu Reeves as John Constantine, with Rachel Weisz, Shia LaBeouf, Tilda Swinton, and Djimon Hounsou. The film is based on Vertigo Comics' Hellblazer comic book, with plot elements taken from the "Dangerous Habits" story arc (issues #41-46) and the "Original Sins" trade paperback.
The film, which was met by film critics with mixed reactions, portrays John Constantine as a cynic with the ability to perceive and communicate with half-angels and half-demons in their true form. He seeks salvation from eternal damnation in Hell for a suicide attempt in his youth. Constantine exorcises demons back to Hell in a bid to earn favor with Heaven but has become weary over time. With death looming, he helps a troubled police detective learn the truth about her sister's death while simultaneously unraveling a much larger and darker plot.
Constantine was released in the United States and Canada on February 18, 2005 and in Hong Kong on March 8, 2005.
John Constantine (Keanu Reeves) is an exorcist who lives in Los Angeles.

Portions from Freebase, licensed under CC-BY and Wikipedia
licensed under the GFDL