Confidence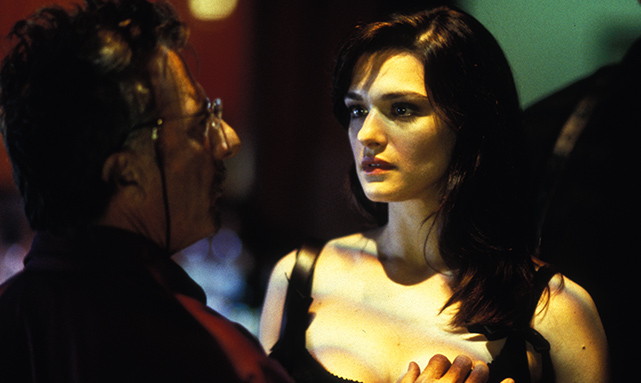 Confidence is a 2003 crime drama film starring Edward Burns, Dustin Hoffman, Andy Garcia and Rachel Weisz, directed by James Foley, and written by Doug Jung.
A group of grifters rip off their latest mark and celebrate, while de facto leader of the group Jake Vig (Edward Burns) explains the art of the con. When one of the four (Louis Lombardi) is found shot to death, the other three learn that the latest money they stole actually belonged to a local L.A. crime lord called The King (Dustin Hoffman). Jake proposes that the grifters work for the King and steal money from Morgan Price (Robert Forster), a rival who owns a bank.
Jake enlists the aid of his remaining partners, Gordo (Paul Giamatti) and Miles (Brian Van Holt), and also convinces an independent con artist named Lily (Rachel Weisz) to round out their foursome. The King, a ruthless killer who suffers from ADHD, demands that one of his men, Lupus (Franky G), also come along.
The con involves bribing a bank vice president into wiring money offshore. The plan hits a snag when Special Agent Gunther Butan (Andy García) shows up in L.A., looking to finally bust Jake, whom he has followed for years.

Portions from Freebase, licensed under CC-BY and Wikipedia
licensed under the GFDL