Cliffhanger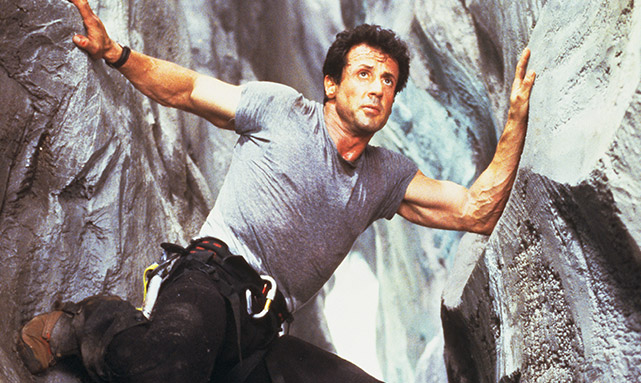 | Time | Day |
| --- | --- |
| No airtimes found. | |
Cliffhanger is a 1993 American action-adventure thriller directed by Renny Harlin and starring Sylvester Stallone and John Lithgow. Stallone plays a mountain climber who becomes embroiled in a failed heist set in a U.S. Treasury plane flying through the Rocky Mountains. The film was a box office success, earning more than $250 million worldwide.
In the opening scene, hotshot mountain climber and rescue ranger Gabe Walker (Sylvester Stallone) and fellow ranger Jessie Deighan (Janine Turner) are dispatched to pick up their friend Hal Tucker (Michael Rooker) on a narrow peak in the Rocky Mountains called "The Tower", when his bad knee gives out. While moving from one mountaintop to a helicopter via a steel cable, Hal's girlfriend Sarah's (Michelle Joyner) harness breaks and she is left dangling over a deep chasm. While the others try frantically to come up with a solution, Gabe straps himself in and goes out to save Sarah, but is unsuccessful; her gloved hand slips through Gabe's and she falls 4,000 feet to her death in the chasm.
Eight months later, Gabe returns to town for the first time since Sarah's funeral.

Portions from Freebase, licensed under CC-BY and Wikipedia
licensed under the GFDL