Being John Malkovich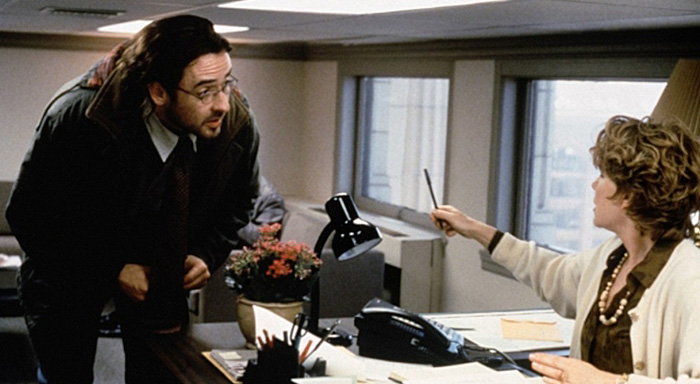 | Time | Day |
| --- | --- |
| No airtimes found. | |
Being John Malkovich is a 1999 American black comedy-fantasy film written by Charlie Kaufman and directed by Spike Jonze. It stars John Cusack, Cameron Diaz, Catherine Keener, and John Malkovich, who plays a fictional version of himself. The film depicts Craig Schwartz (Cusack), a puppeteer who finds a portal that leads into Malkovich's mind.
It was nominated for the 72nd Academy Awards in three categories: Best Supporting Actress for Catherine Keener, Best Director for Spike Jonze and Best Original Screenplay for Charlie Kaufman.
Craig Schwartz (John Cusack) is an unemployed puppeteer in a forlorn marriage with his pet-obsessed wife Lotte (Cameron Diaz). Gaining a file clerk job through Dr. Lester (Orson Bean) at LesterCorp, in the strange Floor 7½ low-ceiling offices of the Mertin Flemmer Building in New York City, he develops an attraction to his co-worker Maxine (Catherine Keener), who does not return his affections.

Portions from Freebase, licensed under CC-BY and Wikipedia
licensed under the GFDL