Basic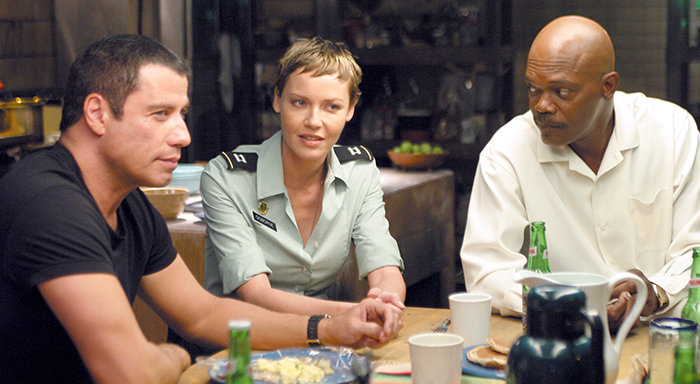 | Time | Day |
| --- | --- |
| No airtimes found. | |
Basic is a 2003 American/German thriller film directed by John McTiernan and starring John Travolta, Connie Nielsen and Samuel L. Jackson.
In Panama, a team of Army Ranger trainees and their instructor, Master Sergeant Nathan West (Samuel L. Jackson) engages in a training exercise. They must navigate the jungle in hurricane conditions, using live fire to hit targets, then rendezvous at a bunker.
Hours later, a trainee identifying himself as Ray Dunbar emerges from the jungle carrying a wounded comrade, Second Lieutenant Levi Kendall. A third soldier pursues while shooting at Dunbar. In self-defense, Dunbar kills this soldier, Mueller. The mission had gone horribly wrong and the rest of the team with West are presumed dead.
In interrogation, Captain Julia Osborne (Connie Nielsen) finds Dunbar refusing to talk. He insists on speaking to a fellow Ranger from outside the base, and draws an "8″ inside a circle on a piece of paper. Noticeably spooked upon seeing the "8″, base commander Colonel Bill Styles (Timothy Daly), calls in an experienced interrogator and friend, Tom Hardy (John Travolta). Hardy, an ex-Ranger is now a DEA agent under investigation for suspicion of bribery.

Portions from Freebase, licensed under CC-BY and Wikipedia
licensed under the GFDL