24 Hour Party People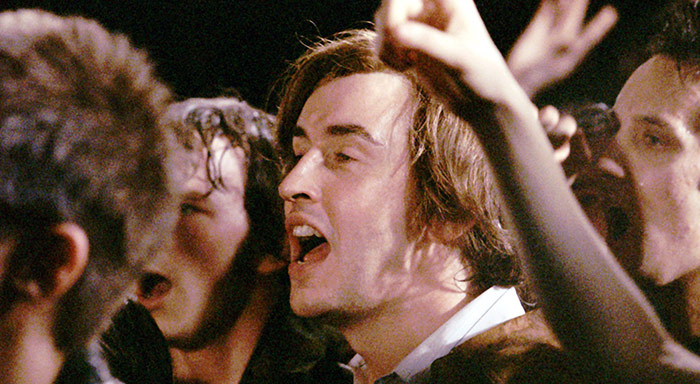 | Time | Day |
| --- | --- |
| No airtimes found. | |
24 Hour Party People is a 2002 British film about Manchester's popular music community from 1976 to 1992, and specifically about Factory Records. It was written by Frank Cottrell Boyce and directed by Michael Winterbottom. The film was entered into the 2002 Cannes Film Festival. It was met with very enthusiastic reviews and currently holds a metacritic score of 85/100. Respected movie critic Roger Ebert gave it four out of four.
It begins with the punk rock era, and moves through the 1980s into the "Madchester" scene of the late 1980s and early 1990s. The main character is Tony Wilson, a news reporter for Granada Television and the head of Factory Records (played by Steve Coogan), and the narrative largely follows his career, while also covering the major Factory artists, especially Joy Division and New Order (played by John Simm and Ralf Little), A Certain Ratio, The Durutti Column, and the Happy Mondays (played by Paul Popplewell, Danny Cunningham and Chris Coghill).
The film is a dramatisation based on a combination of real events, rumours, urban legends, and the imaginations of the scriptwriter – as the film makes clear.

Portions from Freebase, licensed under CC-BY and Wikipedia
licensed under the GFDL