6 Questions with Photographer Rick DeMint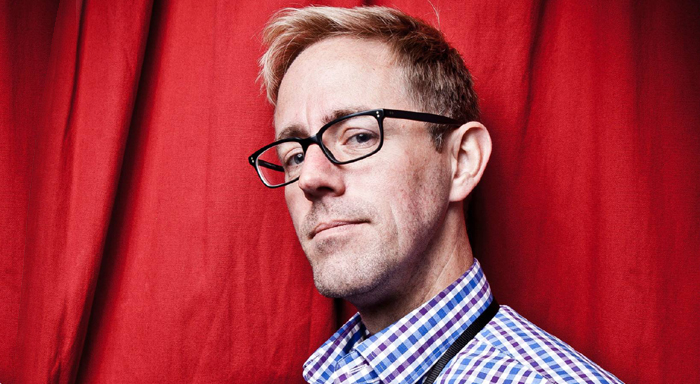 Photographer Rick DeMint talked to us about the evolution of his project Portroids (Polaroid portraits), his experience shooting the 2015 Sundance Film Festival and why he cherishes his Bill Murray photo the most.
Q: When did you start shooting Polaroids? How soon thereafter did you start getting them signed?

A: Growing up, I seem to recall us always having a Polaroid camera around. The idea for portroids, though, came to me in 2001, but it wasn't until 2003 that I actually started shooting these Polaroid portraits. Having them autographed was always involved from the beginning. It was (and still is) a way to have an interaction with the subject and creates a nice personal touch and aesthetic to the photographs. Instant memorabilia.
Q: Has your approach to taking Polaroids evolved over the years?

A: I think my approach is essentially the same: Ask politely if I can take a quick Polaroid; ask if they will sign it; always be nice/respectful/grateful/expeditious. What has evolved is access. After doing this for 12 years and building up a sizable gallery, I've been very lucky to have my work recognized and been given the ability to shoot photos at events, backstage, on red carpets, etc… That said, I still also shoot most of my photos on the streets or at publicly accessible venues. It's still a thrill to randomly run into someone I'd like to photograph and get to have that interaction.
Q: What kind of response do you get from celebrities when you approach them with a Polaroid camera?

A: Generally, enthusiasm. There is a shared love that many people have, especially creative-types, with Polaroid. There is also a triggered nostalgia that takes someone by surprise. I'm happy to be some part of that. In a sea of anonymous paparazzi flash bulbs and fan selfie requests, the uniqueness of a Polaroid stands out. One fun example happened at Sundance this year. On the red carpet for Mississippi Grind, Ryan Reynolds insisted on posing for all his red carpet photos with another great actor, Ben Mendelsohn. I happened to catch Ryan's eye and asked if I could take a quick solo shot. He obliged. One of the other photographers asked him why he posed specifically for me. He responded, "Because he's doing something different. He has a Polaroid."
Q: What kind of events do you get most excited to shoot?

A: There's an event I've been covering for the past five years and I'm always excited when I get asked back. It's a twelve hour comedy marathon podcast that raises money for charity. It's called Pardcast-A-Thon and it's incredibly rewarding. The guys at Never Not Funny (Jimmy Pardo, Matt Belknap and Pat Francis) put it on each year and there are around 20-40 celebrity guests that come through. What's so great about it is that I get to shoot portroids of everyone on the show and we auction them off for the charity Smile Train afterwards. I also get the opportunity to interact with all the guests in a fun environment. Past guests include Jon Hamm, Amy Poehler, Sarah Silverman, Conan O'Brien and a ton more. I always feel very honored to participate.
Q: What was your experience like shooting Sundance Film Festival? What was the highlight for you?

A: Shooting Sundance was an amazing whirlwind. I was up each day around 6am posting photos from the prior day, on red carpets from 10am until past midnight, taking portroids on the streets between events. I don't think I actually ate until the fifth day. I loved every moment of it. One of the best parts was getting to know everyone you're working with (fellow photographers/videographers/media, festival staff, everyone in the SundanceTV offices) and sharing your love of the event as a whole. Some highlights for me are smallish things: Alia Shawkat asking if I'd take a photo of her and Christopher Abbott that she could keep, a conversation with Martin Starr about Impossible Project (the company that makes Polaroid film), seeing a father's excitement when his son signed his first autograph (on a portroid at the Cop Car red carpet), and a photobomb by director Brett Morgen in the portroid of Frances Bean Cobain.
Q: Out of your whole collection, which Polaroid do you cherish the most?

A: This answer changes all the time. Right now it's one I took literally a few days ago of Bill Murray. I've had Bill Murray on the top of my portroid wish list for over a decade. I'd seen him a couple times in the past five years but never had the opportunity to ask for a photo. Now that I've met him, and subsequently this goal, I'm sort of reluctant to post the photo and may hold onto it awhile before sharing it with the world. Cherish it a bit as a nice thing.
Check out Rick DeMint's Polaroids from the 2015 Sundance Film Festival.