Why Women (in Movies) Ruled at the 2012 Sundance Film Festival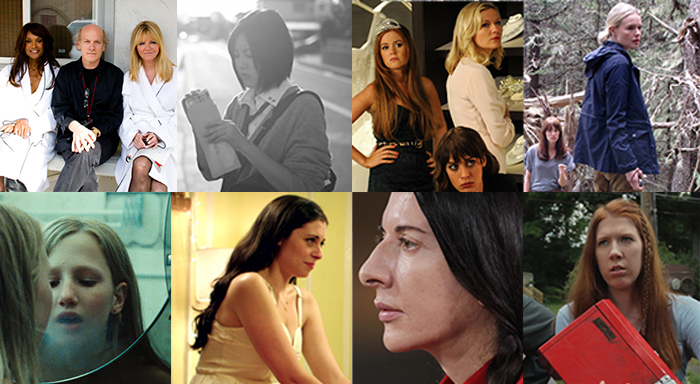 They're rude, crude, desperate, sexy and utterly captivating. At the 2012 Sundance Film Festival, womens' roles pushed gender identity to new levels, challenged convention, and updated the world on the multiple lifestyles women lead in the 21st Century. Here's a list of some of the movies that stood out…
1. About Face: The Super Models Then and Now
Director Timothy Greenfield-Sanders' rekindles the flames with some of our culture's favored beauties through the decades. Every muse (like carol Alt, Christie Brinkley, Isabella Rossellini and Cheryl Teigs) featured in the documentary dishes on her experiences, the milestones she unwittingly set forth upon, and her philosophy on life and surviving in an industry obsessed with youth and the next big thing. Fact not fiction, the sisters are doing it for themselves again. Kudos to the Eileen Ford cameo.
2. About the Pink Sky
Having already won the Japanese Eyes best picture award with his directorial debut, Keiichi Kobayashi serves up teen angst stripped of Japan's usual immaculate and eccentric Technicolor and pizzazz, eschewing it for a stark and candid black and white malaise that is—dare we say—universal. The cast of unknown female actors that find themselves in the predicament of producing propaganda for an ailing man is original and super odd. Arigato for the set up Keiichi, this one's gonna stick in your head.
3. Bachelorette
Meet Regan (Kirsten Dunst), a potty mouth, acerbic, witty, callous, sexy, super fun, blonde dynamo with a penchant for brutal honesty and cocaine. Along with her childhood best friends (played by Lizzy Caplan and Isla Fisher), she sets off to celebrate their frenemy's (Rebel Wilson) engagement. Naturally, the cattier sides of everyone's personalities, and a few ex-boyfriends (one of whom is played by James Marsden) come out in an endless night of high jinx. Thank god there is an infinite amount of illegal substances, wit, and raunch for everyone involved.
4. Black Rock
Kate Bosworth and Lake Bell helm this intense thriller that sets woman against nature. Sarah invites two high school friends, Abby and Lou, to a remote island off of the coast of Maine where they discover they have a much larger issue to tackle than their former feuds. Black Rock will have you feeling vulnerable while keeping you in suspense.
5. Corpo Celeste
Alice Rohrwacher's movie revisits Italian cinema's affinity for a religious discourse through an unflinching exploration of class, social structures and institution. Or in three words: Eve strikes back.
6. For a Good Time, Call…
It's the classic odd couple dynamic, with a twist. Frenemies end up roommates in the big city. On the brink of admitting they have nothing in common but disdain, Lauren (Lauren Miller) and Kate (Ari Graynor) discover the stars may have actually had a greater plan for them. A bond is formed as the two set forth on a lucrative sex hotline business together.
7. Marina Abramović: The Artist is Present.
For most of us, the distinction between art and life is pretty clear. For Marina, there is no delineation, and this documentary can be considered another extension of her interpretive approach to examining social codes, patterns of behavior, terrible government politics, and the contemporary woman's subjectivity. Through her silent performances, Marina will force you to shed some of the most cathartic tears you will ever shed in your entire life. This is a good thing.
8. My Best Day
Set in the self-described Mayberry 2012, our heroine, Karen (Rachel Style), receives a phone call from her long-lost father that connects the lives of the movie's characters in an original way. All around hilarity and existential reckoning ensues.
9. That's What She Said.
Meet Bebe (Marcia DeBonis) and Deedee (Anne Heche), longtime best friends who are at separate crossroads in their lives. They encounter a new element—a third woman named Clementine (Alia Shawkat)—and a set of urban situations that one can only experience in New York City. There's a kind of Odyssey quality to it all, but with more flashing "Don't Walk" signs mixed in.
Flash forward to 2015—here are 10 women directors who scored big deals at the Sundance Film Festival.