Must-See Indies Starring A-List Celebs at Sundance 2014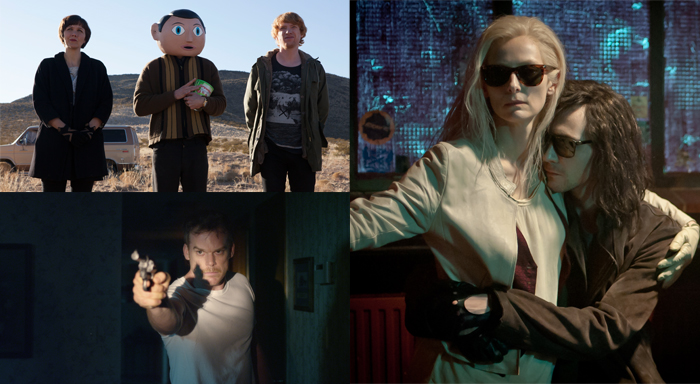 Independent movies often give unknown actors and actresses their big breaks, but at the 2014 Sundance Film Festival, lots of indies starred already established Hollywood A-listers. Here are 10 movies from that year's festival that came with built-in name recognition.
1. 20,000 Days on Earth
Drama and reality combine in this highly stylized and mostly fictitious day in the life of musician and cultural icon Nick Cave, who stars as himself. With startlingly frank insights and an intimate portrayal of the artistic process, 20,000 Days examines what makes us who we are and celebrates the transformative power of creativity.
2. Cold In July
After killing a home intruder, a small-town Texas man (Michael C. Hall) sees his life unravel into a dark underworld of corruption and violence when his victim's father, Ben (Sam Shephard), surfaces to exact revenge. The two ultimately team up with a private investigator (Don Johnson) to uncover the real mystery behind Ben's son.
3. Frank
Wannabe musician Jon (Domhnall Gleeson) finds himself out of his depth when he joins an avant-garde rock band led by the enigmatic Frank (Michael Fassbender), a musical genius who hides his face inside a large fake head. While Jon encourages the group to pursue fame, bandmate Clara (Maggie Gyllenhaal) pushes back against his belief that bigger is better.
4. Infinitely Polar Bear
A manic-depressive mess of a father (Mark Ruffalo) tries to win back his wife (Zoe Saldana) by raising their two spirited daughters in Boston as she pursues her education in New York. This compelling slice-of-life drama was inspired by the childhood of its writer/director, Maya Forbes.
5. Locke
A feat of dynamic storytelling from Oscar-nominated writer/director Steven Knight, Locke takes place in a single location—the inside of a car—and unfolds in real time. Tom Hardy gives a gripping performance as a husband, father and construction foreman who risks his personal and professional lives to do the right thing when his lover goes into unexpected labor.
6. Love Is Strange
After 39 years together, Ben (John Lithgow) and George (Alfred Molina) finally tie the knot. George loses his job as a result, forcing the newlyweds to sell their New York apartment, live apart and rely on family and friends (including Marisa Tomei) to make ends meet.
7. Obvious Child
Obvious Child is an honest comedy about what happens when Brooklyn comedian Donna Stern (Jenny Slate) gets dumped, fired, and pregnant—just in time for Valentine's Day! Luckily, Donna's got an expansive support system to help her through this trying time, including best friend Nellie (Gaby Hoffmann), mom Nancy (Polly Draper), dad Jacob (Richard Kind) and fellow comic Sam (David Cross).
8. Only Lovers Left Alive
A modern-day vampire/musician (Tom Hiddleston), depressed by the direction the world is taking, reunites with his soulmate (Tilda Swinton). Their love has endured for centuries, but when her uncontrollable sister (Mia Wasikowska) shows up unexpectedly, she disrupts their idyllic togetherness. Can these wise outsiders continue to survive as the world collapses around them?
9. The One I Love
Struggling with a marriage on the brink of collapse, Sophie (Elisabeth Moss) and Ethan (Mark Duplass) take the advice of their therapist (Ted Danson) and escape for a weekend in pursuit of their better selves, only to discover an unusual dilemma waiting for them.
10. The Skeleton Twins
Estranged twins Maggie (Kristen Wiig) and Milo (Bill Hader) coincidentally attempt suicide on the same day, prompting them to reunite and confront the reasons their lives went so astray. That also means confronting Maggie's baby-crazed husband Lance (Luke Wilson) and Milo's former teacher and lover Rich (Ty Burrell).
For more from SundanceTV, download our app, available for iOS and Android.