Music to Our Ears: 13 Films Focusing on Music at Sundance 2014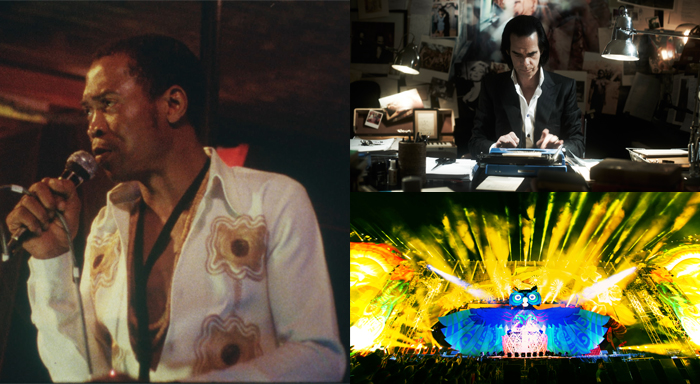 Everyone knows how important music can be to the mood of a movie, but these 13 films go beyond that, focusing on the madness and genius of music itself&mdashthe comedic absurdity (Frank) and the coming-of-age fantasy (God Help the Girl), the healing (Alive Inside: A Story of Music and Memory) and the heartbreak (Low Down).
1. 20,000 Days on Earth
Drama and reality combine in a fictitious 24 hours in the life of musician and international culture icon Nick Cave. With startlingly frank insights and an intimate portrayal of the artistic process, this movie examines what makes us who we are and celebrates the transformative power of the creative spirit.
2. Alive Inside: A Story of Music & Memory
Five million Americans suffer from Alzheimer's disease and dementia—many of them alone in nursing homes. A man with a simple idea discovers that songs embedded deep in memory can ease pain and awaken these fading minds. Joy and life are resuscitated, and our cultural fears over aging are confronted.
3. Finding Fela
Fela Anikulapo Kuti created the musical movement Afrobeat and used it as a political forum to oppose the Nigerian dictatorship and advocate for the rights of oppressed people. This is the story of his life, music and political importance.
4. Frank
Frank is an offbeat comedy about a wannabe musician (Domhnall Gleeson) who finds himself out of his depth when he joins an avant-garde rock band led by the enigmatic Frank (Michael Fassbender)—a musical genius who hides himself inside a large fake head.
5. God Help the Girl
This musical from Stuart Murdoch of Belle & Sebastian is about some messed up boys and girls (Emily Browning, Olly Alexander, Hannah Murray and Pierre Boulanger) and the music they made.
6. Low Down
Based on Amy Jo Albany's (Elle Fanning) memoir, Low Down explores her heart-wrenching journey to adulthood while being raised by her father, bebop pianist Joe Albany (John Hawkes), as he teeters between incarceration and addiction in the urban decay and waning bohemia of Hollywood in the '70s.
7. Memphis
A strange singer (Willis Earl Beal) drifts through the mythic city of Memphis, surrounded by beautiful women, legendary musicians, a stone-cold hustler, a righteous preacher and a wolf pack of kids. Under a canopy of ancient oak trees and burning spirituality, his doomed journey breaks from conformity and reaches out for glory.
8. My Prairie Home
A poetic journey through landscapes both real and emotional, Chelsea McMullan's documentary/musical offers an intimate portrait of transgender singer Rae Spoon, framed by stunning images of the Canadian prairies. McMullan's imaginative visual interpretations of Spoon's songs make this an unforgettable look at a unique Canadian artist.
9. Rudderless
When a grieving father (Billy Crudup) in a downward spiral stumbles upon a box of his deceased son's original music, he forms a rock 'n' roll band, which changes his life.
Song One
Estranged from her family, Franny (Anne Hathaway) returns home when an accident leaves her brother (Ben Rosenfield) comatose. Retracing his life as an aspiring musician, she tracks down his favorite musician, James Forester (Johnny Flynn). Against the backdrop of Brooklyn's music scene, Franny and James develop an unexpected relationship and face the realities of their lives.
11. This May Be The Last Time
Filmmaker Sterlin Harjo's Grandfather disappeared mysteriously in 1962. The community searching for him sang songs of encouragement that were passed down for generations. Harjo explores the origins of these songs as well as the violent history of his people.
12. Under The Electric Sky (EDC 2013)
This 3-D movie chronicles the love, community and life of festival goers during Electric Daisy Carnival Las Vegas, the largest music festival in the U.S. Behind-the-scenes footage and exclusive interviews with Insomniac's Pasquale Rotella reveal the magic that makes this three-night, 345,000-person event a global phenomenon.
13. Whiplash
Under the direction of a ruthless instructor, a talented young drummer (Miles Teller) begins to pursue perfection at any cost, even his humanity.
For more from SundanceTV, download our app, available for iOS and Android.