10 Movies Featuring Breakout Stars From Sundance 2014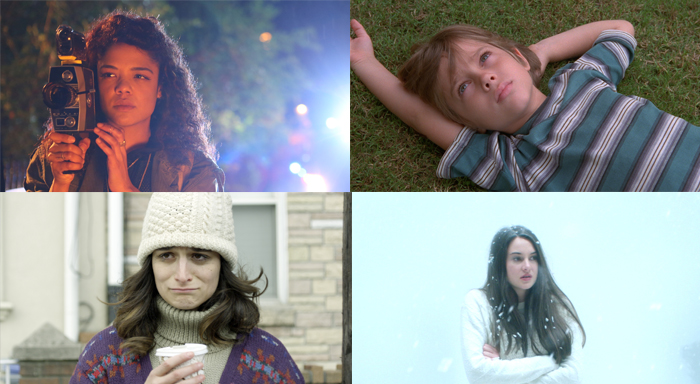 The Sundance Film Festival is renowned for turning rising talent into marquee names, and the 2014 Festival was no exception. Here are 10 movies from that year whose lead actors and actresses continue to enjoy ever-growing success.
1. 52 Tuesdays (Tilda Cobham-Hervey)
This fascinating Australian movie about a teenager's relationship with her gender-transitioning mother (Del Herbert-Jane) starred luminous newcomer Cobham-Hervey in her first role. Since then, she has has upped her indie street cred in movies like One Eyed Girl and Girl Asleep. Girl, you go!
2. Appropriate Behavior (Desiree Akhavan)
Writer-director-actor Akhavan had only helmed a short film and the Web series The Slope when her semi-autobiographical dramedy made it into Sundance. Lena Dunham was so impressed by Akhavan's performance in the movie, she offered her a part as a graduate student on Girls.
3. Boyhood (Ellar Coltrane)
Austin native Coltrane was only 7 years old when he began filming Richard Linklater's 12-year project, a partly-scripted, coming-of-age drama that incorporated the cast's real-life experiences into its narrative. Next up for the young actor is The Circle, based on Dave Eggers' novel of the same name and co-starring Tom Hanks, Emma Watson, Patton Oswalt and The Force Awakens' John Boyega. Not too shabby!
4. Dear White People (Tessa Thompson and Tyler James Williams)
Before Justin Simien's scathing satire of multicultural college life hit the Festival, Williams had already starred on the sitcom Everybody Hates Chris (based on Chris Rock's childhood), while Thompson had appeared in For Colored Girls and on Veronica Mars. But they both took their careers to the next level here, with their performances singled out for praise among a deeply talented cast.
5. Lilting (Pei-pei Cheng)
A veteran Chinese actress, Cheng played Jade Fox in the acclaimed Crouching Tiger, Hidden Dragon before returning to U.S. screens in Lilting, a moving drama about grief and connection. She's since gone on to star in Cooking for Two and The Lost Tomb.
6. Obvious Child (Jenny Slate)
Slate, who'd previously been featured on Parks and Recreation and Bored to Death (as well as Saturday Night Live, where she notoriously dropped the f-bomb) starred in this unabashedly raw, Brooklyn-based comedy as a comedian hitting a personal low when she weathers a bad breakup and an unplanned pregnancy. But her career's soaring to new heights with roles in upcoming movies like The Secret Life of Pets, Brain on Fire and Gifted.
7. The Guest (Dan Stevens)
Already a favorite for his role in Downton Abbey, Stevens—who also appeared in the WikiLeaks drama The Fifth Estate—portrayed a man who is not quite what he seems in the thriller The Guest. Next year, you can see him star opposite Emma Watson in a live-action remake of Beauty and the Beast directed by Bill Condon.
8. What We Do in the Shadows (Taika Waititi)
New Zealand-born writer-director-actor Waititi, who previously created and starred in Boy and Eagle Vs. Shark (and was nominated for an Oscar for his live-action short Two Cars, One Night), teamed up with Flight of the Concords' Jemaine Clement for this hilarious mockumentary about vampire roomies. He's currently helming the 2017 sequel to Thor.
9. White Bird in a Blizzard (Shailene Woodley)
Woodley had but two movies on her resume (The Descendants and The Spectacular Now) when she starred in Gregg Araki's drama about a teenager whose mother vanishes without a trace. Sine then, Woodley's done just the opposite, racking up back-to-back box office hits with Divergent and The Fault in Our Stars.
10. Whiplash (Miles Teller)
One of the most buzzed-about movies to emerge from the 2014 Festival, Whiplash tells the story of a jazz drummer (Teller) whose trial-by-fire training at the hands of a hardcore teacher (J.K. Simmons) nearly leads to his mental undoing. Teller has since gone on to star in big-budget franchise flicks like Divergent and The Fantastic Four.

For more from SundanceTV, download our app, available for iOS and Android.