Sundance Review: MITT, A Portrait of a Politician as We Never Saw Him on the Campaign Trail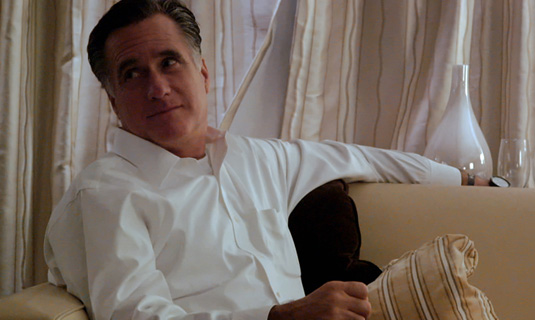 BY ALISON WILLMORE 
"If people really got to know who you are, it could be a successful campaign," Craig Romney says to his father near the beginning of MITT, when the family's gathered for the holidays in 2006, discussing the pros and cons of Mitt Romney running for president. Seven years on, the statement serves as a retroactive laugh line. Who, among his detractors or his supporters, felt like they really got to know Romney, a candidate who was broadly categorized for changing his positions on issues, and who came across as so stiff some jokingly likened him to a robot?
MITT, directed by Greg Whiteley (of RESOLVED and NEW YORK DOLL), is a quietly compelling documentary that follows Romney and his family along both his 2008 and 2012 campaigns, and that presents a man who's decidedly human, has a sense of humor and some firm beliefs. Even if you care little about him as a politician — and I'll confess to that myself — MITT offers up a fascinating divide between the private man and the public image. It's a divide the film is unable to account for on screen, which is understandable and frustrating: while Whiteley got access to the Romney family, he doesn't appear to have gotten the same from the campaign managers and staff, and so we see little of the thought process and advice that went into its candidate's speeches or choices on the trail.
The closest we get is a moment in 2008 when Romney explains how he was told to use the word "change" instead of his preferred phrase "Washington is broken." He felt it was "trite" and overused, but lost the battle with his consultant Alex Castellanos and ended up incorporating it anyway, though, he claims, in a more "philosophical way" that's "more direct." "You can tell the difference, in listening to the speeches, is that right?" he asks the camera. "Yeah," Whiteley sputters from behind it, "I thought there was, uh…" "A change?" Romney finishes, deadpan.
Read more at Indiewire: Sundance Review: 'Mitt,' A Portrait of a Politician as We Never Saw Him on the Campaign Trail