Sundance Review: Kristen Stewart Is Admirably Serious But Can't Salvage Mopey Gitmo Drama CAMP X-RAY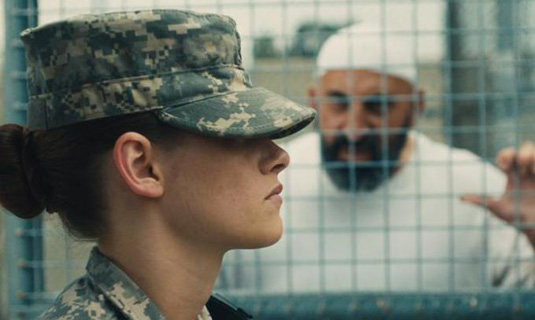 BY ERIC KOHN
Before her gig in the TWILIGHT franchise turned Kristen Stewart into a global celebrity, she had already established herself as a noteworthy screen presence in much smaller projects, with her serious, distant gaze making her ideally positioned to play lost and frustrated young women. There's a glimmer of that subdued talent in CAMP X-RAY, the debut feature of writer-director Peter Sattler that finds Stewart in the excessively unglamorous role of a Guantanamo Bay guard. Unfortunately, Sattler's frustratingly on-the-nose screenplay — which finds Stewart's character forming an unlikely bond with an uncooperative detainee (Peyman Moadi) — only succeeds at emphasizing her talent in an otherwise half-baked drama.
At first, however, CAMP X-RAY maintains a grave quality on par with the actress' abilities, opening with the detainment of the aforementioned Muslim, Ali, who's swiftly carted off to the prison camp in the wake of 9/11. A frantic montage following the orange-clad victims from land to sea and finally to their harsh new home immediately establishes the aura of despair that haunts the setting throughout. From there, Sattler introduces Amy (Stewart), a soft spoken new arrival adjusting to the fratty clique of soldiers that run the camp. Cinematographer James Laxton, whose credits include the similarly atmospheric MEDICINE FOR MELANCHOLY and THE MYTH OF THE AMERICAN SLEEPOVER, captures the drab hallways and empty outdoor landscape with a delicacy that imbues the location with a nightmarish feel.
The whole thing is successfully eerie until the real plot takes hold: Tasked with delivering books to inmates in their barren cells, Amy is assailed by Ali, who playfully messes with her head — asking her countless questions about the books she has available, hounding her about the absence of the seventh Harry Potter tome from the Gitmo collection, and forcing her to read aloud his other options.  The bizarre exchange establishes an inexact tone that never fully takes shape, with the new acquaintances' relationship staggering uneasily between comedy and drama.
Read more at Indiewire: Sundance Review: Kristen Stewart Is Admirably Serious But Can't Salvage Mopey Gitmo Drama CAMP X-RAY