Sundance Review: J.K. Simmons and Miles Teller Impress With a Ferocious Student-Teacher Dynamic in WHIPLASH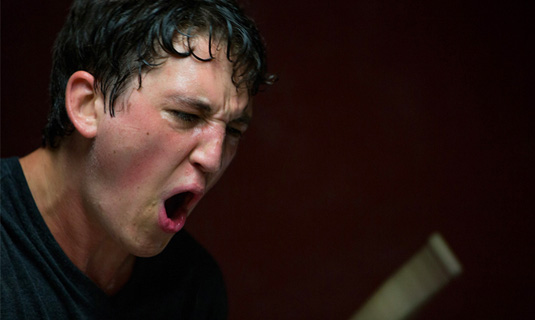 BY EMMA MYERS
Legend has it that Charlie Parker only became Bird because Jo Jones furiously threw a cymbal at his head when he choked on stage. At least that's the story Fletcher (J.K. Simmons), the barbarous band conductor in Damien Chazelle's WHIPLASH, uses to justify the emotional and physical abuse he subjects his students to during rehearsal. A feature-length reprise of Chazelle's award-winning short of the same name, the film also stars Miles Teller (THE SPECTACULAR NOW) as Andrew, a budding young drummer at the country's top music school who thinks he's the next Buddy Rich. This high-energy tale of blood, toil, tears and sweat feels especially apt given this year's inclusion of the "Free Fail" panel at the festival, which, like the film itself, explores the notion of failure as integral to the creative process.
For the 19-year-old Andrew, the concepts of success and failure are as narrowly defined as the insular world he inhabits. Without a single friend at school, rhythm consumes his life. Splitting his time between the conservatory's stuffy rehearsal spaces and an even stuffier dorm room where he's sacrificed sleeping space in order to squeeze in a drum kit for after-after hours practice, he only comes into contact with the outside world at the badly lit movie theater he frequents with his father (Paul Reiser). It's here that he meets Nicole (Melissa Benoist), the pleasantly pretty (if thinly written) girl who works the concession stand.
Save for a bit of opening exposition, the feature picks up where the short left off. Hitting something fierce late one night, Andrew is not so much invited as he is ordered to attend one of Fletcher's infamous practices. Coming in with high hopes, Andrew finds the experience sobering, to say the least.